" Robert Emmett BAWDON/Bawden/Bowden"
Meaning of the surname Bawdon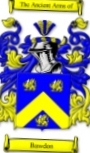 This interesting name is of Anglo-Saxon origin, and has two possible sources. It can either be topographical, describing a "dweller by the top of a hill", from the Olde English pre 7th Century phrase, "bufan dune", meaning "above the hill"; or it may be locational from any of the places called Bowden or Bowdon. Bowden in Devonshire and Derbyshire, and Bowdon in Cheshire are composed of the Olde English elements "boga", arched or rounded, and "dun", hill; hence, an "arched or rounded hill"; while Bowden in Leicestershire, recorded as "Bugedone" in the Domesday Book of 1086, comes from the Olde English female personal name "Burcge" (masculine "Buga"), and "dun"; hence, "Burcge's hill". There are places of the name in Scotland, from the Gaelic "both an duin", translating as "house on the hill", but the name is not widespread here. In the modern idiom the surname can be found recorded as Bowden, Bowdon and Bawdon.
The surname was first recorded in the beginning of the 13th Century (see below), and other early recordings include: Richard de Bouldone, Parson of the parish of Edilstone, who rendered homage in 1296, according to the Documents Relating to Scotland; John de Boghedon, who appeared in the Place Names of Devonshire in 1333; and William de Bolden, who was Abbot of Kelso in 1370, as recorded in the Monastic Annals of Teviotdale. John Bowden, aged 24 yrs., was an early American settler in Virginia in July 1635, having arrived there on the "Paule" of London. The first recorded spelling of the family name is shown to be that of Richard de Boulden, which was dated circa 1200, in "Liber S. Marie de Calchou: Registrum Kelso 1113 - 1567", Scotland, during the reign of King William "The Lion" of Scotland, 1165 - 1214. Surnames became necessary when governments introduced personal taxation. In England this was known as Poll Tax.
Throughout the centuries, surnames in every country have continued to "develop" often leading to astonishing variants of the original spelling. (Ref- http://mail.google.com/a/acnrep.com/#inbox/1314626f3a2bd806).
"Kinloch"
Portion 40 - 40 acres - ACP76.131 - Nov 16 - R E Bawdon, owner - Northern boundry joined Maybury's southern boundry - (Ref - Old Portion Map). (Also in the Tumut Council Rate Book for "D" Riding - Por 40 section 5 in the name of Barbara BAWDEN Mrs).
Portion 4 - 50 acres - CP66.1037 - R E Bawdon, owner - Southern boundry joined the Lucerne paddock with the end clover paddock on the flats. Then the Bull paddock, and ran across the road included the Oat paddock and became the boundry with Crane's Basin paddocks - (Ref - Old Portion Map) Then some years later the portion on the southern boundry was purchased and added to the property.
A total of about 90 Acres.
"KINLOCK" Property - FOR SALE. 1905.
SMALL FARM, situated 14 miles from Tumut. 90 acres Freehold, divided into three paddocks, well watered. Suitable for small dairying or for maize growing.
Apply MRS. B. BAWDEN. West Blowering.- (Ref- The Tumut Advocate and Farmers & Settlers' Adviser (NSW : 1903 - 1925)(about) Previous issue Tuesday 21 June 1921 Page 2).
NSW ELECTORAL ROLL - Blowering Polling Place, address unknown.
BAWDEN, Robert Emmett - Male - West Blowering - farmer - Date unknown.
BIRTH
Robert Emmett BAWDEN was born to parents James (1st) E and Mary A Bawden
Death
OBITUARY. - Mrs. Martha Bowden, an old-age pensioner, of Blowering, Tumut, has passed away at the age of 85. - (Ref- Australian Town and Country Journal (NSW : 1870 - 1907)(about) Previous issue Wednesday 22 February 1905).
Mr Robert Emmett BAWDEN - (NSW BDM records 4126/1898 show a Robert E BOWDEN, son of John E & MARY A BAWDEN died in Sydney, NSW. Question is - is this the same man?) The Army Record of his son Walter shows Robert as deceased in 1916. Married.................
MARRIAGE
Robert Emmert BAWDEN married Miss
CHILDREN
Name: Robert Bowdle - [Robert Bawden]
Age: 48 Estimated birth year: abt 1793 in Devon, England
Civil Parish: South Molton - Hundred: South Molton
County/Island: Devon
Registration district: South Molton - Sub-registration district: South Molton - (Ref- Piece: 235 Book: 9 Folio: 16)
Age Robert Bowdle 48
Mary Bowdle 50
Susanna Bowdle 25
Maria Bowdle 15
Ann Bowdle 14
George Bowdle 10
Joseph Bowdle 9
To Kinloch index - To West Blowering - To Towns & Areas Index - To HOME PAGE