Mr William Patrick Bourke
1860 - 1898
Property Details:
Zone - Rural
Portions - Bogong area - Ref:- Tumut Valuation & Rates Book for "B"and"C" RIDINGS - 1932 - 1934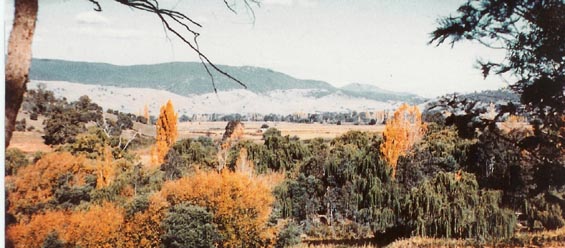 Look at what it was !!!!!
From the first photo to the construction site - See old Monaro Highway in front of Halloran's to Bourkes house site.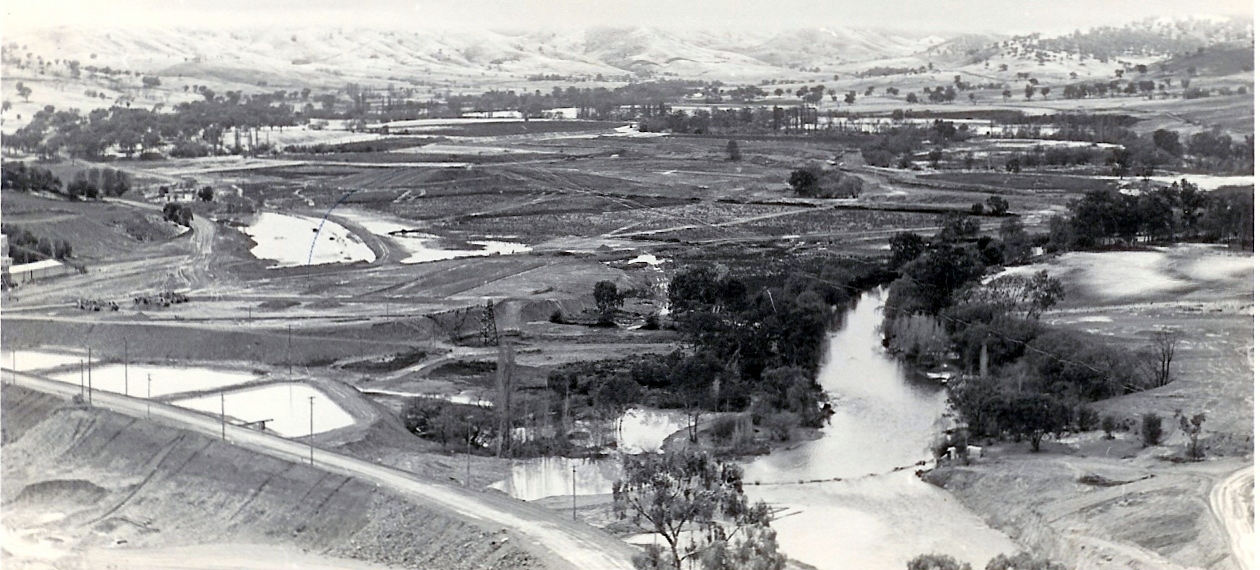 From the first photo to the construction site - wow has there been a few changes.
Portion No. 1.
Portion No. 61.
Portion No. 62.
Portion No. 64.
Portion No. 65.
Portion No. 66.
Portion No. 67.
Portion No. 68.
Portion No. 89.
Portion No. 97.
Portion No.133.
Portion No.152.
Portion No.153.
Portion No.181.
Portion No.52.
Portion No.98.
Portion No.122.
Portion No.123.
Portion No.124.
Portion No.125.
Portion No.171.
Portion No.172.
Portion No.173.
Portion No.174.
Portion No.175.
Portion No.176.
Portion No.177.
Portion No.182.
Portion No.183.
Portion No.90.
Portion No.152.
Portion No.9.
Portion No.127
these portions were listed in the name of "Est F Bourke," East Blowering.
Originally purchased from J C Whitty, "Blowering Station".- more land was added over the years and at the time of resumption was about 1,653 or in another records shows as 2085 acres?.
The BOURKE story begins with Mr William Patrick BOURKE
William Patrick Bourke was born in Ireland. As a young man he left there and travelled to the Gold Fields of Alaska.
It was there he met and married Miss Catherine Dempsey.
They conducted a general store business for a short time in the gold fields.
It was there that they decided to head for Australia and sailed to Western Australia and settled in Coolgardie which put them again in a Gold Rush town. Here in the late 1850's their son Frank Bourke was born.
In about 1860 they undertook another journey, this time to the other side of Australia passed through Tumut heading for the Kiandra Gold Fields, again setting up business as a Store Keeper supplying the population working the gold field. He also ventured into the Hotel and Butchery businesses. Again he did not stay long in this town and moved while the town was prospering to live in the beautiful Blowering Valley.
A major purchase was made in the valley on the eastern side of the Tumut River. It was land from the second owner of the Blowering Station Mr J C Whitty. The price paid was 30/- an acre for the property. Interesting to note that at the time the family property was resumed in about 1965 the transfer was at 150/0/0 Pound an acre.
BLOWERING.

Mr F. J. Bourke
received a letter from the Tumut War Chest Committee, asking if Blowering would be pleased to take a stall on the 2gdh Imfc. He decided to call a meeting, and after a talk with some of the West Blowering folk, they agreed to do the stall. Both gatherings were a complete success, and a joint meeting was held on Friday afternoon at the school, many journeying quite twenty miles to attend.
It was unanimously decided to provide the stall as requested, the name to be 'Blowering Variety Stall.' Already substancial financial donations in money, bags of corn, young heifer, sucking pig, cakes, dray load of ferns, pair of ducks, sheep, etc, are pouring in eggs, flowers, potatoes, bottles of jam and anything whatsoever in that line will be thankfully received.
One of the young lady collectors has already received 125 numbers for the sucking pig. On both sides of the river from Mr Theodore Lampe, at Talbingo to Springfield, a wave of enthusiastic support is assured, to try and provide additional comforts (or tbe brave men at the front). Mrs F. J. Bourke was appointed general treasurer and, Mr N. Crook general secretary.
The stall will be under the verandah of Messrs E. Wilkinson and Son's offices. - (Ref- Adelong and Tumut Express and Tumbarumba Post (NSW : 1900 - 1925)(about) Previous issue Friday 21 September 1917 Page 4).
Childred born to William and Catherine were:
John Bourke was born in Alaska
Frank Bourke later married Miss Sarah Annie O'Neil. Records show a Death Notice - BOURKE Annie After two years' bedridden, Mrs. Annie Bourke, of East Blowering, relict of the late Francis Bourke, passed away at their residence on Sunday morning at 8.15., a happy release from long suffering.
Deceased was a daughter of the late Mr. and Mrs. Hugh O'Neill, who came from Howlong, where she was born, when she was quite a little girl. December 8, 1936 - (Ref- http://hodgeswebsite.tripod.com/Newspapers.htm#BAKER).
Bourke Head Stone - Photo courtesy of Margaret Buckley
William Bourke - did not marry.
Margaret later married Mr Timothy Quilty.
Mary
BURKE Georgina We regret to state that a little girl of Mr. F. Burke's, aged four years, got so fearfully burned, through her clothes catching fire on Monday evening last, that she died from the injuries on the following Wednesday at midday. July 13, 1900 - (Ref- http://hodgeswebsite.tripod.com/Newspapers.htm#BAKER).
This page is under construction, please contact John on 0431 481 451 or johnstephenson2121@gmail.com with any additional information.
To East Blowering - To Home page
.
J.L., East Blowering ," £2 0 0
Bourke. .... . 2 0 0 - (Ref- Australian Town and Country Journal (NSW : 1870 - 1907)(about) Previous issue Saturday 25 June 1881).
1922 - DEATHS. - BOURKE. - July 21, 1922, at East Blowering, Tumut, Francis, beloved husband of Anne Bourke, in his 64th year. R.I.P. - (Ref- The Sydney Morning Herald (NSW : 1842 - 1954)(about) Previous issue Friday 28 July 1922). - (Ref- The Tumut Advocate and Farmers & Settlers' Adviser (NSW : 1903 - 1925)(about) Previous issue Tuesday 13 April 1920 Page 2).
Death of Mr Charles Lundie Badgery
Quite a gloom was cast over Blowering, in fact over Tumut generally, when the sad news of the untimely death, at the age of 57 years, of the popular squire of East Bloweriup Station was reported. It was an end so abrupt, sudden, and unexpected as to make the stoutest heart quail, but as the poetess says :
Leaves have their time to fall,
And flowers to wither at the north winds breath And stars to set;
but all — Thou hast all seasons for thine own, 0 Doath.
The news of his demise was communicated to Sergeant Costello on Monday last, aud he, in turn, interviewed Coroner W. J. Shelley, who wired to deceased's late physican in Goulburn.
The latter replied that the lost one was a long sufferer from heart trouble and sent along a certificate to that effect.
The Coroner therefore decided to hold no inquiry, seeing there was nothing in the circumstances surrounding his end that demanded it. On the morning on his death Mr Badgery rose early, had a long conversation with Mr. Yeo (for a long time a trusty employee) about the coming shearing.
At about 5.15 a.m. Mr. Badgery rode to the old Blowering homestead, last occupied by the previous owner Mr. Joseph Lambert, and returning put his horse in the stable. He had evidently been grooming it down, as a brush was on the ground near him in a skillion off the stalls, and he was in an unconscious condition on the floor.
This was about a minute or so after he had entered the stables.
The matter was immediately reported and he was removed to his residence, but he never regained consciousness, and at 8.30 a.m. passed silently away.
Deceased was born at 'Vine Lodge,' Exeter, Moss Vale, N.S.Wales, in 1853, and the name of Badgery is quite a house hold word. They have ever identified themselves with pastoral and commercial pursuits.
The subject of our obituary first started business in the pastoral line in Roma, Queensland. This property he disposed of. Thence he came to Yass, where he had a nice station property.
Ridding himself of this, he took up Clear Hills, Gunning, which, after a time, he disposed of, and then went to Sydney. Thence he went to Goulburn, and whilst living there he purchased the well known East Blowering Station. This was about three or four years' ago. On this he erected a splendid homestead and outhouses, laid water on by means of a hydraulic ram, and at great expense effected all-round substantial station improvements, and matters were progressing favorably when the cruel hand of death called him hence.
His Blowering neighbors, one and all, speak of him in the kindest terms, and he was beloved by his employees, who deeply regret their loss.
He leaves behind him five brothers, viz;
John (of 'Ivy Hall,' Exeter),
Frank, (of 'Vine Lodge,' Exeter),
Frederick (of Goulburn),
Henry (of Pitt, Son and Badgery, Sydney) and
Edward (Sutton Forest).
His brother, Andrew Badgery, of Sutton Forest predeceased him, the cause of his death being similar.
He also leaves a sorrowing wife and 3 daughters, viz :
Misses Isabella,
Ruth and
Martha, to mourn the loss of an affectionate and devoted husband, and a worthy and loving father.
The funeral arrangements were placed in the hands of Mr Thomas Elphick, who placed the body in a lead shell encased in a splendid cedar coffin, with rich appointments, and on Wednesday last a cortece of mourners followed his remains to the train by which they were taken for interment to Sutton Forest. Some magnificent Wreaths were placed on the coffin. We tender the bereaved ones our deepest sympathy in their dire distress.
From a private source it is learned that a large purchase of shares has been made in London by one of the original floaters of the Gibraltar Consolidated. - (Ref- The Tumut Advocate and Farmers & Settlers' Adviser (NSW : 1903 - 1925)(about) Previous issue Tuesday 25 July 1922 Page 2).
DEATH OF MR FRACIS J. BOURKE.
After a short but distressing illness Mr. Francis Joseph Bourke passed away at 1.40 on Friday, at his residence, East Blowering, death being due to pneumonia. Deceased, who was 64 years of age, had always been active amongst his stock and during the late squally wet weather followed his usual bent While in one of the paddocks he was affected by a sudden seizure, and became helpless, having to be removed to his home. Upon medical aid being summoned it was found that he was in the grip of pneumonia, and all that Drs. Browne and Clouston and the tender nursing of a devoted wife and daughters could do to retain the vital, spark and bring him back to health was vouchsafed by those watching the case, it was acknowledged by the doctors on Saturday morning that there was no hope for recovery.
Mr. Bourke was one of the widest and best known figures in farming and grazing circles in Tumut district. He was the eldest son of the late Wm. Bourke, one of the pioneers of Bast Blowering, and succeeded to the portion of his father's estate which he worked all his life.
No public movement for the advancement of the district or for sweet charity's sake was launched for the last 40 odd years which had not his willing aid and generous financial assistance.
Up till recent years he was also a moving spirit in many public institutions. His charitable acts were proverbial. Innumerable others received his bounty in secret; he was a man who gave for the sake of relieving the pressure of his fellows, and not for any limelight or even publicity. That was his modesty. His object was to see that suffering or privation were mollified, and the recipients made happier by his acts.
A devoiit church goer and supporter, he set a noble example to his family and associates. These attributes were testified to in no misunderstood words by the Rev. Father J. Sharkey, P.P., in his address from the pulpit in the Roman Catholic Church on Sunday morning. A true and trusted friend whose warmth of heart could not be cooled by trivial considerations, the whole community mourn the loss of one who left the worid richer by his having lived in it.
He leaves a sorrowing widow (a daughter of the late Mrs. O'Nell),
one son (Francis Joseph), and
two daughters (Catherine and Mary), to whom the deepest sympathy goes out in their sad bereavement,
besides one brother (William, of East Blowering) and a sister
(Mrs. Timothy Quilty, of "River View," Tumut).
Mrs. Percy Madigan is a niece.
The funeral took place on Saturday afternoon, the cortege which followed the remains to their last resting place. (Ref- The Tumut Advocate and Farmers & Settlers' Adviser (NSW : 1903 - 1925)(about) Previous issue Tuesday 25 July 1922 Page 2).
Re: Bourke family Singleton area NSW
By Valerie Farthing Bennetts April 03, 2012 at 04:38:44
In reply to: Re: Bourke family Singleton area NSW
Chrissy Fletcher 11/18/01
John Bourke A farmer from Tumut in New South Wales married Johanna Russell at the Catholic Church in Cooma 22nd April 1874, Looking at yourJohn Bourke in Singleton has me curious .. knowing that Russells are Resident in Singleton NSW area...... as farmers today
Our John Bourke was the son of John Bourke from,County Clare,( Bolyside Limerick) and his wife Margaret Scanlon
He also had a brother Patrick Bourke who became a Police officer.
Patrick married a Catherine Hogan,(daughter of John Hogan and Mary Smith) age 34 years in Redfern 29th November 1901 at the age of 49 years The Church? St Kiernans Church, Golden Grove Redfern
Witnesses; James Regan and Bridget Kingsley
They also had another brother William Bourke born Bolyside County Limerick Ireland who married Catherine Dempsey from New York, William Bourke and Catherine Dempsey had five chidren (From Williams death certificate 27th May 1897)
Margaret Ann Bourke who married Timothy Quilty from Tumut
Francis Bourke
Mary Bourke
William Patrick Bourke
and one son James who died after falling from a horse.
Valerie - (Ref- Ancestry™ Official Site - per Lyn Langley)
Tumul JLocal JYeivs.
The following selections were taken up at the Land-office on Thursday last : —
William Bourke, 6Oa, Bogong ;
William Davis, 40a,
and Alfred James Marshall, 40a, Wereboldera;
George Harris, 100a, Yarrangobilly ;
John Reel, 40a, Hindmarah.
Mr Movse, the Postal Inspector, is still in Tumut. The protracted stay of this gentleman in our town affords satisfactory evidence that the postal arrangements which, have recently been publicly discussed here,are receiving a thorough investigation. As the result of the Inspector's visit we believe some important changes will shortly take placo.
Since Mr Moyse's arrival, wo notice that the mailman signals his approach by blowing a horn.
Mr N. SXa-ndelson's sale of Mr Stevenson's salo of merchandise) was continued on Monday and Tuesday last. Tho sale has been a decided success. We makes no doubt that several of our storekeepers would liko to follow suit and clear out their back warehouses by an auction sale, but first the public must be convinced that the goods have to bo sold. Without this latter element a salo would not draw. Ode attention is occasionally directed to a very vulgar and detestable phase of larrikinism, which now and again obtrudes itself under public notice. A citizen has a little gathering of friends at his residence. Some jealous individual who is not asked, or who entertains some private grudge against the family, scrawls a number of anonymous placards, suping little else but vapid rubbish more or less reflecting upon the parties referred to. Sensible people treat such productions with contempt, but be it known that such cowardly foolish acts may at any time expose the perpetrators thereof to certain pains and penalties under the Vagrant Act.
We notice a paragraph going the round of the Victorian newspapers to the effect, 'that' Arthur Orton ' under the assumed named of Alfred Smith has at last been discovered in a lunatic asylum on the banks of the Parramatta River, and that the news has been sent by cablegram to gladden the heart of the Claimant in his prison. 1' Whoever has made tha grand discovery recorded above, has found not the man wanted, but a mare's nest.
It will be remembered that the Claimant on his trial stated that 'he last left Arthur Orton in VVagga Wngga working for Mr Higgins under the name of Alfred Smith.'So long ago as 1870 a resident of Tumut, who interested himself for the Claimant, discovered the man 'Alfred Smith' under another alias in Gladesville Asylum on the Parramatta Eivcr, and this man was subsequently interviewed by the Melbourne solicitors acting for the Claimant and by the English barrister Mr Purcell, who was opposed to him, but the man was not accepted as the real Simon pure.
Moreover a statement of the facts was forwarded to London and laid before the Claimant, who then 'made the remarkable observation that' he didn't think the man in the Asylum could be 'Orton,' and he would, much rather win his caso without 'Orton' turning up.' We rather think the 'Tichborne' game is played out.
Mr N. Mandelson has sold the draught horse 'Jolly' to Mr R. Bartholomew for £80.
This horse is well-known in the district as a very sure horse, and his stock are much admired.
Among local draught horse's we believe Mr T. Lindbeck's 'Conqueror' is destined to make a eonsiitioii.
This horse has wonderfully improved in appearance since he arrived in Tumut.
On Saturday last some excitement was caused in town, when it became known that one of our residents had received private information from a very reliable source that war, if not actually declared between England and Russia, was imminent, and that a secret council was being hold at Government House about the matter.'
The news, however, still awaits confirmation and much speculation is going on in the meantime. - (Ref- The Gundagai Times and Tumut, Adelong and Murrumbidgee District Advertiser (NSW : 1868 - 1931) (about) Previous issue Friday 1 September 1876eNext issueePrevious page Page 3)
1920 - A Great life. Mr. Neil Cochran, of Yaouk Estate,
got word that his brother Lachlan was seriously ill at Cootamundra. The wire was received in the evening, making it too late to catch the Cooma train Mr. Cochran decided to try and catch the train at Tumut the following day. He had just about 14 hours in which to do the journey, and the distance to be covered on horseback was over 80 miles.
The rider started his long and rapid journey along the highest road in Australia. It meant riding from one side of the Great Dividing Range to the other. As he passed through Kiandra all were asleep.
Yarrangobilly was reached just as day was breaking;
Talbingo negotiated in good time.
A short rest was taken at the Talbingo Hotel.
The ride then commenced in earnest. It was at this period that Mr. Cochran used his great knowledge of horses to the best advantage
He found, however, on reaching Mr. F. J. Bourke's Blowering, that the gallant horse, which had done over 70 miles in 13 hours, was beginning to get tired.
There was just about an hour to catch the train. Miss Mary Bourke offered him her saddle mare, Maureen, and a final effort was made to reach Tumut railway station.
The train was moving out of the station as he raced in, and the guard shouted, "Are you a passenger?" "Yes," said Mr. Cochran, running at full speed. "Jump aboard," said the guard, and Mr. Cochran sprang on to the moving train. Eighty miles over rough country in 14 hours and 10 minutes is one of the finest rides in Australia in these days.- (Ref- Gundagai Independent - Queanbeyan Age and Queanbeyan Observer (NSW : 1915 - 1927)(about) Previous issue Friday 16 January 1920).
BOURKES