William (2nd) "Bill" BOYD

PORTION MAP ISSUED ON 20.12.1928, LAND DISTRICT of TUMUT, NSW
Portion 15 = 40 acres - northern side,next door to Worldon's shows on maps with John McBarnes & then as L H Sharp as owners - Q. When was this portion added to the Hunt land?
Portion 102 = 40 acres - mainly treed and hill side, situated straight behind Portion 28. - John & Susanna KORN early owners. Maybe the home stead is on the eastern side of this block.
Portion 28 = 80 acres - Maybe the dairy site is here then across road runs to the river and river and flats - where Mr & Mrs Hunt grew the vegetables for sale in Kiandra.
Portion 25 = 50 acres - southern side of property with a creek running through it, beside Boyd'd property.
BIRTH
William (2nd) "Bill" BOYD parents were William H Boyd & Janet B WOOD
MARRIAGE
William (2nd) "Bill" BOYD married Miss Nancy - - in Adelaide, SA
CHILDREN
1. Son one
2. Daughter One
3. Son two
4. Son three
Charles and Elizabeth Hampstead leased the property from Mr & Mrs Wood's in about 1921.Together with sons Joseph James "Joe", William "Billy", Clem and Charlie, they started up a dairy farm. Two of the sons Clem and Charlie did the milking. Whilst Joe and William "Billy" trapped rabbits. Mr Hampstead senior grew crops.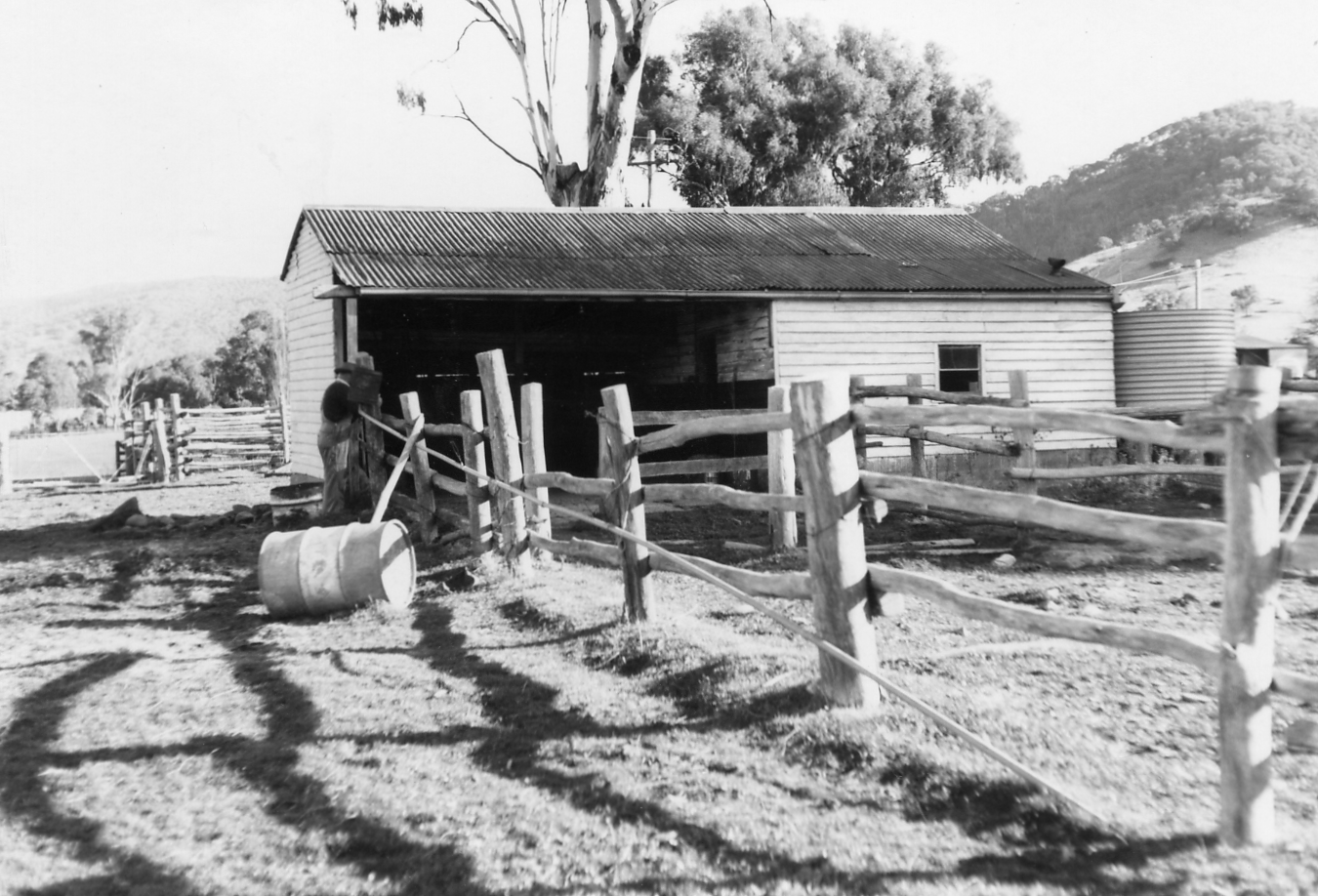 Dairy shed
When the lease expired Mr Hampstead obtained a contract from the Shire Council to cart metal from the old Gibralter mine at Adeling out onto the road at Shepardstown, two sons Joe and William "Billy" continued living in the Blowering valley, finding work where they could. They both married local girls William "Bill" married Miss Marjorie M Oddy in 1928 in Tumut, NSW - (Ref - BDM NSW 19771)
In 1930 Mr Joseph James "Joe" married Miss Freda D Oddy in Tumut, NSW - (Ref - NSW BDM 8979/1930 & Tumut & Adelong Times) and they settled on a property across the river on East Blowering.
As time went on William "Bill" and his son Clem LeFever, Tenants, leased from Bill Boyd.
William (Bill) & Nancy BOYD - Millet shed - on flats near the Tumut River
Bill & Nancy Boyd and family, he was the Grandson of Mr James Wood moved onto the property in the 1950's as Owners.
To West Blowering - To Front page