CATHOLIC CHURCH
Capper Street,
Tumut. NSW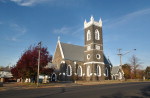 Tumut Catholic Church
McALROY, MICHAEL (1823-1880),
Roman Catholic priest, was born at Westmeath, Ireland,son of John McAlroy, farmer, and his wife née Ulyer. He was educated at Navan and at Maynooth where he became friends with Patrick Bermingham and Patrick Dunne and was ordained in 1849. He became chaplain to Bishop Haly of Kildare and Leighlin, attached to the Carlow Cathedral, where he had leisure enough to study architecture.
At the invitation of Dunne, seconded by Bishop Goold of Melbourne, he went to Melbourne with Bermingham in February 1855. Next year the three friends were posted to Geelong, but Goold soon became alarmed at their independence, criticism of himself and 'assertion of their personal and canonical rights'. He split up the three friends and McAlroy was given a 'roving commission' in the Ballarat area. Later unable to find enough parishioners in Gippsland, he returned but received no other offer.
McAlroy wrote to Archbishop Polding in Sydney, who was pleased to send him to Yass in 1857. In his four years there he enlarged the church and built others in Jugiong, Tumut, Gundagai, Wagga Wagga, Gunning and Binalong, all of solid construction and free of debt.
A skilled horseman he averaged about 11,000 miles (17,703 ha) each year riding around his large parish. He won loyal support from the large number of Catholics in the district, some of whom he had helped to settle there. In 1861 he accompanied Charles Cowper to Lambing Flat after the riots.
He was sent to Goulburn to build a convent for the Sisters of Mercy. He also built the bishop's residence there and churches at Taralga, Breadalbane and Grabben Gullen.
In 1867 contrary to expectations he was passed over when Bishop Lanigan became bishop of Goulburn. McAlroy was made his vicar-general and in 1868 he was transferred to Albury, where he built the 'large and beautiful' Convent of Mercy and church, and also churches at Corowa, Howlong and Newtown.
He helped to found St Patrick's College, Goulburn, in 1874 and brought the Sisters of Mercy to Yass in 1875. He died on 14 July 1880 from heart disease at Albury where he was buried.
Ref:- Select Bibliography - F. Mackle, The Footprints of Our Catholic Pioneers (Melb, 1924); T. L. Suttor, Hierarchy and Democracy in Australia, 1788-1870 (Melb, 1965); J. O'Brien, 'The apostle of the south', Australasian Catholic Record, 22 (1945) no 4; Dunne and Bermingham papers (Roman Catholic Archives, Sydney). More on the resources - Author: C. J. Duffy
Print Publication Details: C. J. Duffy, 'McAlroy, Michael (1823 - 1880)', Australian Dictionary of Biography, Volume 5, Melbourne University Press, 1974, pp 120-121.
DEATH
Regarding the late Rev. O. Twomey, the Southern Argus of Saturday last supplies the following particulars: —
'He was educated in All-Hallows College, Dublin.
Ordained in 1852, in the following year he came to labour in the cause of religion in New South Wales, where for very nigh thirty years his efforts for the cause he espoused wore unceasing, and his zeal unabated.
He labored on the mission in Albury for several years; then he was removed to Tumut, where his zeal has left monuments which will ever keep fresh in the memory of his flook his untiring exertions for their spiritual good. The Church of the Immaculate Conception at Tumut one of the finest in the diocese of Goulburn.
Some fortnight ago Father Tvomey left for Melbourne for a short vacation, which, contrary to expectation, proved to be his last.
On Wednesday morning he peacefully and calmly breathed his last, after a very holy and thoroughly priestly life spent in the service of his Master.
He was buried in Melbourne on Thursday, and as his Lordship could not be present on tho occasion, a solemn High Mass waa celebrated in the Cathedral, Goulburn, for. the eternal repose of his soul. His Lordship Sr. Lanigan was celebrant, the Rev. P. J. O'Keeffe and Rev. J. O'Dwyer respectively deacon and sub-deacon, and the Rev. S. T. Walsh master of ceremonies.
It is needless to say that all the above, particularly his Lord ship, were very sorry that they could not assist at the obnequies of one of the oldest and most respected priests of the diocese.
WEST BLOWERING
THE first of a series of socials to be held at West Bloweriag, in aid of the "R.C. Church Garden Fete (Bloweriag and Tumut Plains Stall, to be held on December 26, took place at Mr. E. Higgles' residence on Friday night last. The threatening weather militated against the attendance.
The secretary, Mr. John Groves, was unable to be present owing to sickness, and his duties were carried out by the treasurer, Mr Dave Stanfield, The floor was in excellent order and Mr Jas Higgins directed the dancers, whilst Messrs D. Stanfield, W. Tindall and J. Higgihs supplied the music.
Refreshments were served at midnight, followed by the drawing of raffles. A cake, donated by Mrs. F. Bourke, of East Blowering, was won by Milton Haydon, who redonated it and it was auctioned and reauctioned by Mr Geo Bridle, eventually falling to the bid of Mr. C. A. Oddy.
It realised £2/17/6 Dancing was afterwards resumed and continued with unabated vigor till the wee small hours. The gross proceeds from the function were £5/5/6, and the expenses 11/6. The treasurer has handed £4/14/- to the treasurer of the Blowsring and Tamut Plains Stall, - (Ref- The Tumut Advocate and Farmers and Settlers' Adviser (NSW : 1903 - 1925), Tuesday 24 September 1918, page 2 National Library of Australia http://nla.gov.au/nla.news-article112269299)
To Church Index - ToTumut Index - To Home Page