TUMUT Churches, NSW.
AUSTRALIA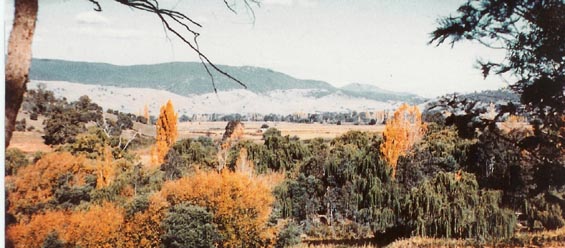 Looking up the Blowering Valley from "Stansfield's Cutting" West Blowering to Talbingo Mtn.
This report is submitted in good faith. All endeavours have been made to make all entries authentic and correct. For any corrections and additional valuable information, maps and photos you may have please contact John
BORAMBOLA CHURCH HALL. An iron building with an iron roof. Built 1924. The hall has had an unfortunate history. Mrs. Angel gave a site, which site was conveyed to the Church of England Property Trust, Diocese of Goulburn. Apparently it was found impossible to raise sufficient funds to build a church, and it was determined instead to build a hall. As the general public was invited to contribute, the building somewhat naturally came to he regarded as a public hall. The decision to build a hall was not unanimous, and the resulting misunderstanding as to its ownership and use has led to friction. Other centres worked are Humula and Oberne. At Humula a Presbyterian Church is used for services.- (Ref- The Sydney Morning Herald (NSW : 1842 - 1954)(about) Previous issue Wednesday 7 April 1909).
1909 - ADELONG, Sunday -
The Rev. Mr. Elliot, Church of England minister for the past 2.5 years here, has been transferred to Bombala. On Wednesday he was presented with a purse of sovereigns, and Mrs. Elliot with a gold brooch. Mr. Elliot, was also presented with a purse of sovereigns it Adelong Crossing, whilst at Middle Adelong so was presented with a handsome inkstand.
Mr. Elliot said he was happy to state that he was leaving all the churches in the parish out of debt, and a new church was in the course of erection at Middle Adelong, for which the money was in hand, as the Mate family at Tarcutta had endowed the church with £1000, and purchased 51 acres of land on which to build a rectory. - (Ref- The Sydney Morning Herald (NSW : 1842 - 1954)(about) Previous issue Wednesday 7 April 1909).
1892 - WAGGA, THURSDAY. - At a meeting held in the Union Church, Humula, at the request of the Rev John M'lntyre of Wagga, the matter of remaining a portion of the Culcairn district of the Presbyterian Church, or joining the newly adjusted pariah of Tumbarumba, was discussed and was decided to hold another meeting to arrive at a final conclusion on thoso two subjects The meeting was accordingly held, and was unanimously, resolved "that Humula remain a portion of the Culcairn parish. - (Ref- The Sydney Morning Herald (NSW : 1842 - 1954)(about) Previous issue Friday 3 June 1892).
1887 - ROSEWOOD AND TUMBERUMBA. - Novomber 19. - ANGLICAN.--The Churoh of England represents a large body, but has no resident minister. Tho Rev. G. Soares, of Adelong, pays a monthly visit; and his services have been muoh appreciated.
PRESBYTERIAN.-The Presbyterians have decided to hold a concert in Tumberumba on Saturday, the 26th instant. They intend to begin the erection of the new church on an early date. The Rev. James Galbraith Millar, lately from Scotland, under whose supervision church matters are being carried on, has been working the Tumbarumba charge for the past six months; and the majority of the people seem highly pleased with his ministry. - (Ref- Australian Town and Country Journal (NSW : 1870 - 1907)(about) Previous issue Saturday 26 November 1887).