"Kydra"
Thompson (1st) & Ellen Myers
Purchased the House Block of the "West Bowering Station" at auction 1906
Property Details:
Zone - Rural
Portions -
Acres - 340
Resumed by the NSW State Government - 1966
THOMPSON (1st) MYERS
The story began in Yorkshire, England.

The Australian land experience began in Nimitybelle, NSW in 1862.
Mr Thompson (1st) Myers was the third born son of David and Elizabeth Myers, he was born on the 18th April, 1845, at Yeadon, West Riding of Yorkshire, England. At the age of 85 years he died in 1930, at Tumut NSW. - (Ref- NSW BDM 15179/1930).
MARRIAGE
Thompson married Miss Ellen Mulhearn , in 1880 in Bega, NSW, - (Ref:- NSW BDM No.2679/1880 ).She was born in 1828 and was the daughter of John Mulhearn born in County Longford, Ireland and Mary nee Coffey born in County Sligo, Ireland. Records show that Ellen died about 2 years before Thompson in 1928, in Tumut - (Ref- NSW BDM 22313/1928). T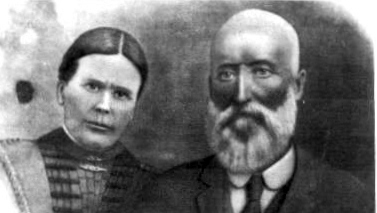 Children born to Mr & Mrs Thompson and Ellen Myers
1. - 1881 Trevor MYERS, was born in COOMA, NSW - (Ref- NSW BDM 20417/1881) Records show that Trevor died in 1948. - The first born son of Thompson was Trevor who married 1906 Ada Triggell who was born 1883 and died in 1964, they had five children, 1.Una, 2.Edgar,3.Florence, 4.Ada and 5.Edley.
2. - 1883 Rebecca Myers, was born in COOMA, NSW - (Ref- NSW BDM 23077/1883). She married Mr Alfred Arthur SMITH in Cooma, NSW.
3. - 1884Albert Myers,"Ab"- (Ref:- NSW BDM No. 24825/1884) was born in COOMA, NSW - married in 1936 to Miss Isabel Allan CAMPBELL in TUMUT - (Ref:- NSW BDM No.597/1936)
4. - In 1885 Henry Myers, was born in COOMA, NSW - (Ref:- NSW BDM 25655/1885) Two sons Henry "Harry" and Edward purchased a property two farms south of Thompson's place from Peter Beattie. They ran the property until Harry brought out Edward's half share. He married Miss Helen M. Campbell.
5. - 26843/1886 Edward Wilson MYERS, was born NIMMITABEL, NSW - In 1920 EDWARD W married Miss Helen M HAMILTON in TUMUT. - (Ref- NSW BDM 19785/1920).
6. - 28138/1888 Maria MYERS, was born in NIMITYBELLE, NSW (Note spelling.) - Maria married her cousin, Thomas Leslie Myers.
7. - 26970/1889 Mary J MYERS, was born in NIMMITABEL, NSW
8. - 26368/1891 Ellen MYERS, was born in NIMMITABEL, NSW - Ellen (Nell) married a ship's doctor by the surname of Miller who was a widower.
9. - 27044/1893 Elizabeth MYERS, was born in NIMMITABEL, NSW - Elizabeth (Betty) also married a widower by the name of Stedman, there were no children of this union.
10.- 6046/1895 Emma MYERS, was born in NIMITYBELLE, NSW - Twin - who married Arthur G Hides in Tumut.- (Ref- NSW BDM 8663/1922). - (Newspaper) - Miss Emma Myers fourth daughter of Mr. and Mrs Thompson Myers, of Tumut, was presented with a beautiful gilt from her friends at West Blowering at a social held at Mr E. Higgins, sen., last Saturday week, prior to her approaching marriage with Mr. G. H. Hides, of Batlow, which takos place at the Presbyterian Church next Saturday. - (Ref- Albury Banner and Wodonga Express (NSW : 1896 - 1939)(about) Previous issue Friday 23 June 1922 Page 19).
11.- 6047/1895 Jessie MYERS, was born in NIMITYBELLE, NSW - Twin - Jessie who married George D Russell in Tumut - (Ref NSW BDM 2619/1916).
12.- 5656/1897 Lilly MYERS, was born in NIMITYBELLE, NSW
13.- 5758/1898 Ivy MYERS, was born in NIMMITABEL, NSW. In 1928 IVY daughter of THOMPSON & HELEN died in WAGGA WAGGA - (Ref- NSW BDM 8671/1928).
14.- 33186/1899 Thompson (2nd) MYERS, was born in NIMITYBELLE, NSW - Thompson (2nd) left home at the age of fourteen and joined a prominent Banking Group where he remained all of his working life.- In 1928 Thompson (2nd) MYERS married Miss Enid F PAUL in MANLY 8394/1928).
15.- 34380/1901 Louisa F MYERS, was born in NIMMITABEL, NSW - Louise also remained unmarried. In 1928 LOUISA F died in HURSTVILLE, Sydney - (Ref- NSW BDM 12518/1928).
16.- 32796/1903 Christina Maude MYERS, was born in NIMMITABEL, NSW - Christina Maude died of TB in 1926 in TUMUT - (Ref- NSW BDM 15496/1926).
STORY
Thompson owned a settlement at Nimmitabel (NSW) where he had been given a grant of 640 acres, this he named "The Kydra". He also drove a bullock team from Cooma to Sydney taking about twelve months to do the round trip. (He is mentioned in one of the early directories as being a Carrier).
On his way down the very steep Talbingo Mountain during his journeys, he would have to cut down a tree and secure it to his dray to act as a brake. It was on one such journey that he fell in love with the Blowering District near Tumut and when the West Blowering Station was divided up, he took up a choice piece of the land. The homestead and site of the West Blowering Station head quarters.
Thompson, whilst himself hard working man, had to delegate a lot of the work around his property to his equally hard working wife and many children (they had 17 children in total), at times he would be found sitting upon farm machinery giving orders as to what needed to be done in the short time that he was home each year.
Henry married Helen Margaret Campbell and they also took up land in the Blowering Valley, just two farms south also fronting the Tumut River. Henry was quoted as saying that there was only one good job on a farm and the bull had it! Another son, Edward, was one of the earlier men to enlist for the first world war, he went to Gallipoli with the Light Horse Infantry. Ted enjoyed relating stories, however, they had a tendency to grow in the telling........... he was also a breeder of champion Jersey cows, winning many prizes in the Royal Easter Show.
A number of the Myers' married either Triggell or Holmes' so these families are very much interwoven together, the Holmes' and Triggell' s being half/siblings or relatives to each other.
Some of this information was submitted by Colleen Levett 28.07.06 and the NSW BDM and local newspapers.

Mr T. Myers who recently purchased the West Blowering Homestead and property, intends starting his son with a dairy heard on that place. He will commence with about 80 cows. - (Ref- The Tumut Advocate and Farmers & Settlers' Adviser (NSW : 1903 - 1925)(about) Previous issue Tuesday 11 December 1906 Page 4).

DEATH

The death has occurred at the Tumut Hospital of Mrs. Ellen Myers, aged 65 years, wife of Mr. Thompson. Myers, formerly of Cooma, but a resident of the Tumut district for the last 25 years. She was the mother of 17 children, 13 of whom are living. Mrs. Myers was well known in the dairying industry. (Ref- Albury Banner and Wodonga Express (NSW : 1896 - 1939)(about) Previous issue Friday 11 January 1929 Page 47).

Sale of West Blowering Estate.

The West Blowering Estate, 9410 acres, situated 10 miles from Tumut, which was recently subdivided into thirteen farms of from 60-acres to 3220 acres, was offered by public auction at O'Brien's, Hall, on November 15. The auctioneers were, Messrs. Weaver and Perry, in conjunction with Messrs. S. F. Wilkinson. and Company, Tumut.

Five farms, totaling 770 acres of freehold, were sold at from £3 15s to £18 per acre, averaging £9 10s per acre. The total sale was £7342. The auctioneers consider it probable that the other farms on the estate will be sold privately. Following are the details of the sale.

Lot 1, 60 acre's freehold, including 45 acres of corn, tobacco, and potato land, Tumut River frontage, black flats, 43 acres, already let at £2.3s per acre; purchaser, Thomas Sullivan, sen., Blowering, £18 per acre..

Lot 3, 91 acres freehold, including 42 acres of corn land, let on same terms and conditions as lot 2, 57 acres of cultivation on river front age, balance grazing; same, purchaser, £16 17s Od per ,acre.

Lot 4, 111 1/2 acres of freehold, including 45 acres of corn land, with river frontage, let on same terms and conditions as lot 2, £13 15s per acre; same purchaser.

Lot 6, 167 1/2 acres freehold; known as West Blowering Homestead, river frontage; improvements good house, 7 acres of orchard, 20 acres of corn land, 60 acres of wheat, balance first class grazing; purchaser, Thompson Myers, Tumut, £12 per acre.

Lot 11, known as Black Flat, 330 acres free hold with 380 acres C.L. given in, river frontage, corn and wheat land, well cleared, fenced; wooden cottage, corn shed; purchaser John Higgins, Blowering, £8 16s per acre. (Ref- Australian Town and Country Journal (NSW: 1870 – 1907) Wednesday 21 November 1906).

WEST BLOWERING.

A visit to the old West Blowering homestead (bought at the sub-division sale of the estate by Mr. Thompson Myers some 8 years ago) was afforded a representative of the Express lately, and an inspection of tho property is well repaid by the amount of informa tion obtained in the good management of a farm and orohard, and especially by the general hospitality of Mr. and Mrs. Myers and family.

The farm comprises 137 acres in all. Of this area 100 acres are devoted to dairying and grazing, carrying 40 dairy cows and the horses necessary for working the farm. Ten acres last year were sown with wheat and 20 acres with oats, very heavy hay crops resulting. Thirty acres carries maize, with small plots specially set apart for the cultivation of potatoes, pumpkins and luoerne.

The maize crop ia exceptionally even and the yield particularly prolific showing that the land is of regular good quality. Two aores of new land oleared for the first time of a heavy growth of blackberry bushes and scrub are estimated by competent judges to give a return of upwards of 100 bushels per acre, and, taking into consideration the size and number of tho cops and the compactness of the grain, a layman would never have the temerity to doubt it, The two plots of lucerne serve to demonstrate that that fodder plant can be grown successfully and remuneratively in this district.

A ohief attraction on the property at the present time (but still more alluring a short while back when all the early fruits were on the tioes) is the 7-acre orohard — the finest, to be found in the district. For this, however, Mr. Myers takes no further credit; than that of endeivorsng to rid the orohard of the numerous posts that invade the fruit, and this he has in a very large measure accomplished.

The orchard was planted by Mr. Riohard Rivers (now owner of the Federal Estate, Gilmore) when he was owner of West Blowering Estate, and his good judgment in the selection of the trees and the varieties of fruits he sought to grow are exemplified in the loaded state of every bough. Although there are mixed classes of trees, the major portion of the area is planted with pears and apples, the latter in endless kinds. The enormous crops - that bear down the limbs are a sight to behold, not only because of the . number each tree carries but because of the uniformly large size of the fruit— Jonathans, Five Crowns, Russets, Nonpariels, Roman Beauties, Pip pins and a dozen others, each true to kind, and of particularly high flavor. For these Mr. Myers is not only receiving a ready market locally, but the demand extends to outside districts and Sydney. Two samples, the one a Roman Beauty weighing 14oz and the other a Northern Spy weighing 15oz, are on view at the office of this paper. (Ref- Adelong and Tumut Express and Tumbarumba Post (NSW : 1900 - 1925)(about) Previous issue Friday 19 May 1911 Page 3). Digitisation generously supported bymore info 1 of 2 New South Wales Government Digitisation generously supported by 1 of 2New South Wales GovernmentDigitisation generously supported bymore info 2 of 2 State Library of NSW Digital Excellence Program Digitisation generously supported by 2 of 2State Library of NSW Digital Excellence Program Play Pause 1 2

EMPLOYEES

Ref:- Ädelong & Tumut Express"1907 - Mr Charles SCOTT - by trade a Brancksmith, on 28th Aug, 1907, died in the Tumut Hospital. He was amongst the first at the first Adelong Gold Rush in 1852. He worked at his trade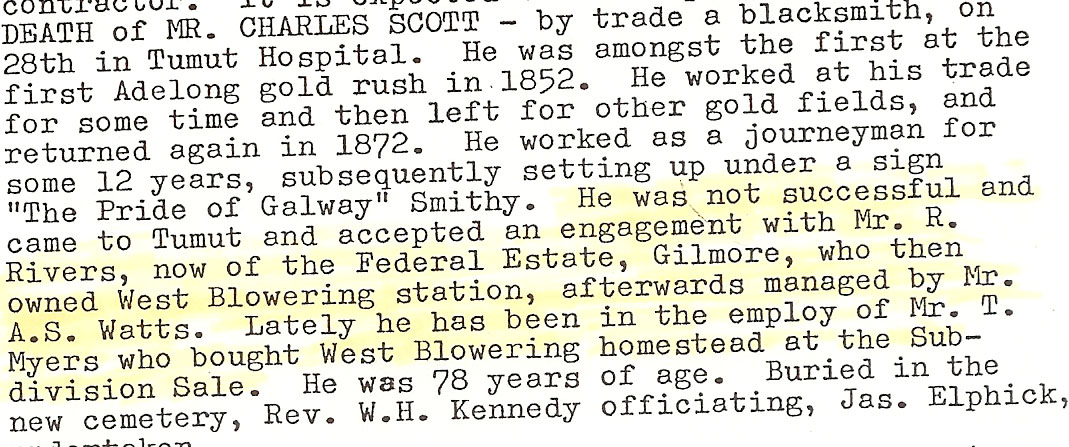 Other Marriages of males with the name MYERS in Tumut from 1788 to 1956.
3038/1859 MYERS, JOHN married Miss PHATCHER MARY ANN ELIZA in TUMUT

4255/1898 MYERS, FREDERICK married Miss ALLATT HARRIET A in TUMUT

13692/1910 MYERS, GILBERT T married Miss KELLY EVA J in TUMUT

12571/1955 MYERS, WILLIAN Miss THOMAS LEO in TUMUT

19785/1920 MYERS, EDWARD W married Miss HAMILTON HELEN M in TUMUT

10597/1936 MYERS, ALBERT CAMPBELL married Miss ISABEL ALLAN in TUMUT

15607/1936 MYERS, EDGAR WESLEY married Miss O'SULLIVAN MAVIS CLARISSA in TUMUT

16680/1949 Leo Norman MYERS married Miss Jeanne Winifred DOWELL in TUMUT

15254/1950 MYERS, ROBERT WILLIAM married DOWELL LURLENE MARGARET in TUMUT

6770/1951 Colin Campbell MYERS, married Miss MARJORIE JULIA DAVIS in TUMUT

20184/1957 Alick Ross MYERS, married Miss Ruth Diane STURT in TUMUT
Marriages for the and Bride's last name myers in the years 1788 to 1960 registered in the District of tumut.
2038/1856 WEBB ROBERT married Miss MYERS ESTHER in TUMUT

2277/1904 HENKEL FREDERICK C married Miss MYERS ALEXANDRA M in TUMUT

13760/1958 CARR MONTE married Miss MYERS LURLINE MARGARET in TUMUT

8663/1922 HIDES ARTHUR G married Miss MYERS EMMA in TUMUT

2619/1916 RUSSELL GEORGE D married Miss MYERS JESSIE in TUMUT

9977/1935 ANDERSON JOHN W married Miss MYERS FLORENCE D in TUMUT

10901/1939 SAWKINS HARRY married Miss MYERS ISABELLE HELEN in TUMUT

29405/1950 LE FEVRE CECIL GEORGE married Miss MYERS RUBY JEAN in TUMUT

This report is submitted in good faith. All endeavours have been made to make all entries authentic and correct. For any corrections and additional valuable information, maps and photos you may have please contact John

To his father David Myers - To his grandfather Samuel Myers - To West Blowering - To Front page