- Edward John Francis RYAN - VC
"Jack"
East Blowering
Tumut
BIRTH -

On the 9th February, 1890 Edward John Francis RYAN - (Ref NSW BDM 34350/1890) was born to parents MICHAEL & EUGENIA in TUMUT
RELIGION-

Religious Influence

Catholic
SCHOOL
West Blowering Public School,
West Blowering Road
about 14.5 miles
from Tumut NSW
SITUATED AT THE FRONT GATE OF "KINLOCH" PROPERTY.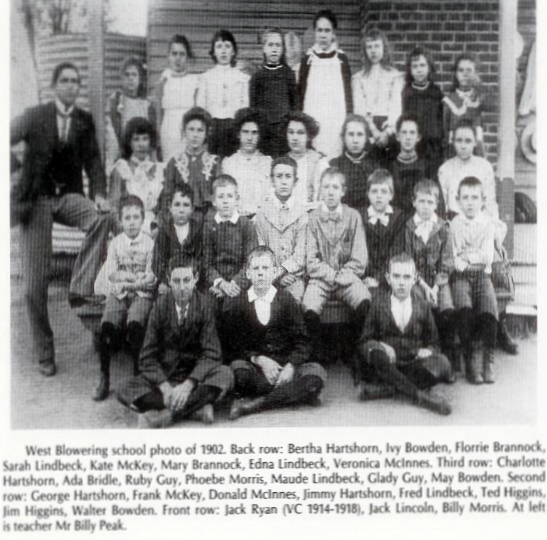 Aged about 12 YRS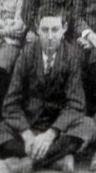 DEATH

Edward John Francis RYAN died on the 3rd June 1941, in hospital, Melbourne, Victoria, Australia

1941 - V.C. WINNER 0F LAST WAR - Mr. J. Ryan's Death

-

Mr. John Ryan, 51, VC winner in the last war, died in Royal Melbourne Hospital last night. He was taken to hospital from his home in Victoria st, Carlton, on Mon-1J I KIAN, VC day, suffering from pneumonia.

His sister, Mrs P Grant, of North Yass (NSW), and his brother Mr W Ryan, of Hampton, were with him when he died, Mr Ryan was born at Tumut (NSW). He served in the last war with the 55th Btn AIF, and was awarded his VC for conspicuous bravery on the Hindenburg Line on September 30, 1918. He won his award as a private. - (Ref- The Argus (Melbourne, Vic. : 1848 - 1956)(about) Previous issue Wednesday 4 June 1941).

BURIED

John in buried in the Catholic section
Springvale, Victoria, cemetery.
RYAN INDEX
To Parents - To Front - To East Blowering - To West Blowering School
Tumut History
Tumut History, PO Box 132, Tumut, NSW 2720, Australia
"Information is our only purpose; that accomplished, we shall consider that we have done our duty." Reference
1918 - "Kangaroo" V.C. Private John Ryan read 30 December 1918 (237 words)
1919 - Special Honor For Tumut's Only V.C., Private Jack Ryan read 29 August 1919
1919 - V. C's. Read 28 August 1919 (205 words)
1919 - Ryan Public meeting read 5 September 1919 (115 words)
1919 - Arrival of Pte. J. Ryan V.C. read 28 October 1919 (391 words)
1919 - Australia's First and Last VC's Arrive Home on the Same Ship read 29 October 1919
1919 - A 'Kangaroo' From The Front Tumut's VC Arrives. read 31 October 1919 (698 words)
1919 - The Ryan Banquet read 31 October 1919 (1,213 words)
1919 - Blowering Reception Committee. read 28 November 1919 (149 words)
1920 - Blowering Honor Board read 16 July 1920 (135 words)
1920 - Blowering Honor Roll read 7 September 1920 (471 words)
1922 - The death of Mr. Michael Ryan read 22 June 1922 (94 words)
1929 - Pte. John Ryan - V.C. Who Fluked It read 15 October 1929 (484 words)
1929 - Tumut V.C. is Jobless read 29 October 1929 (207 words)
1929 - James (sic) Ryan, V.C. Wants A Job read 13 December 1929 (216 words)
1935 - A Xmas Box For Tumut's V.C. read 17 December 1929 (297 words)
1935 - Private J. Ryan, V.C., Carried Swag read 17 August 1935 (114 words)
1935 - V.C. Given Job After 4 Years On Tramp read 19 August 1935 (72 words)
1935 - Work for Victoria Cross Winner read 24 August 1935 (82 words)
1935 - A Dubbo V.C. Swagman read 13 September 1935 (119 words)
1941 - John Ryan. V.C.. Inspired Diggers To Hang On read 10 May 1941 The Argus (Melbourne, Vic)
1941 - V.C. Winner Of Last War - Mr. J. Ryan's Death read 4 June 1941 (241 words)
1941 - Death - Ryan read 5 June 1941 (33 words)
1941 - V.C. Who Died In Want read 5 June 1941 (100 words)
1941 - Funeral of E. J. Ryan, VC read 6 June 1941 (88 words)
1941 - Tragedy Lies Behind Death read 10 June 1941 (103 words)
1941 - Mustn't Happen Again read 25 July 1941 (73 words)
1944 - Grave of the Late Private John Ryan, V.C read 31 October 1944 (261 words)
1981 - Memorial to V.C. Hero read 28 April 1981 (589 words)
2018 -
- Edward John Francis Ryan VC