"Time Line"
0000 - Aboriginals
Prior to European settlement the Tumut Valley was inhabited by the Wiradjuri Aboriginal people for thousands of years.
1700s
1788 - While the First Fleet readies to leave Botany Bay for Port Jackson,two French frigates commanded by Jean-Francois de Galaup Comte de La Perouse anchor in the bay,
1789 - Australia's first boat was built on the site of Customs House. Launched on October 5, 1789, the ten-ton Rose Hill Packet was used for carrying provisions to Parramatta, still called Rose Hill at the time. As the dense native timbers growing about Sydney Cove were highly unsuitable for boat building, the boat had little manoeuvrability and earned the name "The Lump". It sometimes took a week to complete the round trip of 48 kilometres to Parramatta and back. The Parramatta River itself was alive with multi-coloured parrots. Through constant usage, the term Rose Hill parrot was slurred to Rosehiller and then Rosella, the name of one of the most recognised Australian icons.
1800's
1804 - Mr William WARBY was born at Prospect, Sydney, NSW, in 1804, his parents being John & Sarah Warby (nee Bentley) both were convicts, John having arrived in Australia 14th February, 1792.
1814, July, 18th - Our country referred to as "Äustralia" for the first time in a written document eg Matthew Flinder's Map.
1823 - Commissioner Bigge in his report on Agriculture and Trade recommended that an expedition be sent inland from Port Phillip.
1824 Nov, 3rd - Hume & Hovell passed through the area and Blowering in particular.
1825 - the system of selling land was introduced, leading to the abolition of free grants for Crown land in 183
1825 - Thomas Hill Bardwell - settled "Adelong Run".
1828 - William Warby 'Darbalara Run"
1829 - just 4 years after Hume & Hovell passed through the area just south of his run. James Hannibel ROSE was the first person on the "Tumut Plains Run".He apparently is the only person to be given a free grant of land on the Tumut River by Governor Phillip.
1829 Oct,21st - Edward George Brown was born in Denmark, Holland.
1830, May 10th - Elizabeth McAlister born at "Darbalara". (First white baby born in the area.)
1831 - after that year land was only sold at public auction and the Governor's discretionary power of refusing applications for land ownership was abolished.
1832 - George Shelley arrived and took up "Bombowlee" then spelt "Bumbowlee". Later married A M Waddy.
1832 - John James McAlister - (Ref:- Birth NSW BDM No. V1832918 21/1832)was born. Then in 1857 John James McAlister married Miss Anne COYED in TUMUT - (REf:- Marriage NSW BDM 2688/1857)
1832 - Dr George BENNETT visits Darbarlara - learns that KEIGHRAN is on Brungle - SHELLEY is on Bombowlee - ROSE is on Been -
1834 - Dr Clayton on Blowering Station
1835 Sept, 1st - George Shelley marrierd Miss Amelia M Waddy at Parramatta, NSW.
1836 - E G Brown came to Australia with his parents,age 7 yrs lived at "Colstown" Upper Patterson River.
1836 - Miss Amelia Matilda Shelley was born to George Shelley at Tumut Plains - she was to marry E G Brown in 1854, at 18 yrs.
1838 - Dr Clayton
1838 - George Shelley sold "Bombowlee" to his brother William Shelley.
1838 - George & William Shelley brought "Tumut Plains" and George moved to Tumut Plains.
1838 - another nearby run is mentioned in records "Adjunbilly Run" was occupied by Captain George Macdonald
1838 - John Wilkinson (170, Thomas (15), and their young sister Elizabeth (14) arrived at "Rosebank",Gilmore .
1839 - Bushrangers paid unwelcome visit to Shelley's. About 80 people were living in the area.
---- - Thomas McAlister, "Wereboldera"
1839 - Mr. Rose then sold to George and William Shelley, who had been at Bombowlee for 10 years
1840 sheep were introduced
1840 - First "Pasturage (Squatters) Licenses were issued to:- J A Broughton, , -/- Dr B Clayton, -/- Thomas Howe, -/- George & William Shelley -/- George McDonald.
1840 - Tumut Stock Pound was established - with Mr Henry Green as the first Pound keeper
1841 - Second pound keeper appointed - Mr Francis Anderson. 2854
1842 - Robert McAlister was born whilst they were on the Tumut Plains land.(No official record found to date.) Robert married Miss Sophia CLOUT, in Tumut. - (Ref NSW BDM No. 3206/1866)
1844 - James McAlister - (Ref:- Births NSW BDM No.V18441982 30A/1844) - In 1866 James married Miss Caroline CLOUT, in TUMUT. - (Ref NSW BDM No. 3196/1866)
1845 - Tumut Court of Petty Sessions established with Mr Frederick Walker as the first Clerk.
1845 - William Shelley died.
1846 - Mr John Rix conducted a river ferry at a cost of a 1/- per head.
1846 - Jemima McAlister, - (Ref:- Births NSW BDM No.V18462995 32A/1846) - In 1868 Jemima married Mr William Oddy in Tumut - (Ref NSW BDM No.3486/1868).
1846 - Edward George Brown came to "Blowering Station" to work for his brother-in-law J C Whitty.
1847 - Miss Elizabeth McAlister at the age of 17 years married John Wilkinson of Yellowin, NSW in Yass, NSW.
1847 - Messrs. Foord and Anderson erected the first bridge over the Tumut River.
1848 - The town as it is was first surveyed.
1848 - David Johnson established Adelong Creek Run.
1848 - William Bridle came down the Talbingo Mountain with a Bullock Team - ( a major feat at the time.)
1849 - Thomas G McAlister - (REf NSW BDM No. V18492096 34A/1849). 2. WILKINSON, Henry married to MCALISTER, Charlotte in Tumut - Ref NSW BDM No. 2684 in 1857.
1850 - Tim Quilty was born in Tumut.
1851 - Mr William Henry Bridle, 3rd was born, son of William Bridle.
1852 - George Shelley died while travelling to Melbourne, with Dr Large of Cockatoo via Tumut.
1853 - Fred Body erected a stream flour mill at Mill Angle.Gilmore Creek.
1854 - Edward George Brown at the age of 25 yrs married Miss Amelia Matilda Shelley, 17 year old daughter of George Shelley of Tumut Plains.They had 12 children.
1856 - Edward Charles Brown, Edward George Brown son was the first to be registered at Tumut in new BDM Registry System.
1856 - Esther MYERS, married Robert WEBB, in TUMUT - Ref NSW BDM No.2038/1856.
1857 - Lawrance ROSE, married Elizabeth Jane SHELLEY in TUMUT - (Ref NSW BDM 2685 in 1857).
1859 - Charles Gilbert LONG,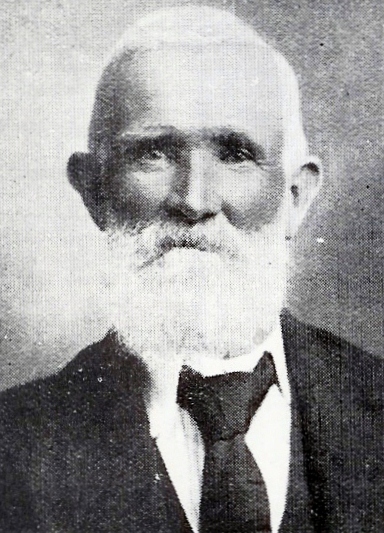 married Miss Sarah YERBURY, in Tumut, NSW - (Ref:- NSW BDM No.3020).
1860 -/- News from Tumut - Empire, Sydney -- 7 June 1860 - Nothing of importance to communicate this week. - Business is not very brisk. I have noticed several parties passing through here on their way to Kiandra. - The weather is fine, but cold, frosty nights, and the waters have returned to their former channel, and once more our verdant fiats are passable. - I hear something about a survey being made of the different roads leading to Kiandra. - If a party of men were employed during the winter to cut through the big hill leading from here to the Snowy, it would be of great benefit both to the Tumut and the surrounding districts. - Now we have a new township marked out at Talbingo, immense quantities of people will be attracted there, and the country between here and Maneroo will have a chance of being thoroughly prospected, which it has not hitherto had. - I am convinced that the country between here and Maneroo abounds in reefs and rich goldfields, but this aide of the country has not had the same opportunities as Melbourne. - Now that one has been discovered I hope it will lead to many more, and vast numbers of people will be scattered over the country, seeking far the bidden riches amid the snows of the Australian Alps, or the deep gullies that abound in this district. -/- Any individual, coming fresh from our fatherland, and travelling through this part of the country cannot fail to be enraptured at the magnificent panorama of nature which presents itself;- the clear running stream, winding in its course, and islands here and there clothed with luxuriant herbage, while the wild cattle are indolently running or scamporing off in herds, frightened at the approach of a human being; now on some high mountain where you can scan the country round, thickly studded with timber, then down into some deep valley, where the beams of the noon-day sun are shining on some projecting rock, and the sudden stillness of the scene, combined with the beauty of the landscape, invite you to recline under the branches of yon spreading tree. But cold and dreary are the wide wastes here at times. - The snowstorm may overtake some poor traveller and clasp him in its deadly embrace. Hunger may compel him to stop, and, famished, wearied, and dispirited, he lays him down to his cold sleep without one to raise his drooping head, or to hear his last adieu. -/- I understand that another gentleman of the legal profession, a Mr. Ellis, from Yass, has come to settle in the district, thus giving us two lawyers for our future disputes. -/- Although, at present, matters are dull both here and on the Adelong, owing to the Kiandra diggings, I hope that Mr. Ellis will find sufficient business to remunerate him. - (Ref-
1861 - Tumut's favous double line of Poplars were planted by Mr J Carr and Mr B Kelly.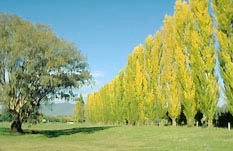 1860's - Kiandra Gold Rush
1863 - Fanny STURT, married Mr John MONTGOMERY, in Tumut, NSW - (Ref NSW BDM No.2997).
1863 - CLAYTON JAMES married ANDREWS ELIZA TUMUT - Ref NSW BDM No.3000 in 1863.
1863 - BROWN, CHARLES married WOODWARD, MARGARET W - Ref NSW BDM No. TUMUT 2985 in 1863.
1863 - BRIDLE, THOMAS married NUTTHALL MARY ANN TUMUT - Ref NSW BDM No.2977 in 1863.
1863 - ODDY, CHARLES married OSMOND, ELIZA FRANCES in TUMUT - Ref NSW BDM No.2980 in 1863
1865 - Josephine Flood in her The Moth Hunters records that the last moth hunt in the Bogong Mountains took place.
1866 Aug, 20th - Edward George Brown elected to the Legislative Assembly representing Tumut in the Fifth Parliament.
1866 - Edward George Brown brought " Blowering Station " from his brother-in-law Mr J C Whitty.
1866 - J C Whitty left "Blowering Station" for England.
1866 - there were eleven pubs in the town
1867 - The population of Tumut in was 432
(1869) - John Beale arrived in Tumut and engaged in mining, dealing, and carrying. In 1878 he established a brewery and turned out a first class beer called "Johnie Beale", a favourite beverage in Tumut and district.
1876 - Mr Edward George Brown commenced business in Tumut as a Stock & Station Agent.
1877 - James and Selina Stanfield settled on 40 acrea of land at West Blowering.
1880 - James and Selina Stanfield selected another 40 acres of adjoining land
1880 - There were now eighteen Hotels in the town.
1884 Mr Timothy QUILTY, married Miss Bridget HALCORAN, in TUMUT, NSW, - (Ref:- NSW BDM No. 7225/1884) the daughter of Patrick & Bridget Halloran (Halcoran) of East Blowering.
1885 unfortunatelty Bridget QUILTY died in Tumut. (Ref:- NSW BDM No. 14700/1885)
1885 - Edward George Brown moved into Tumut
1885, August, 26th - . Thomas BOYD - A large headstone in the old cemetery erected by Tumut and district citizens marks his burial place
1886 Mr Tim Quilty purchased the "Riverview" property, which is situated on the Blowering Road, at Jone's Bridge, Tumut, from Mr Thomas Bridle.
1887, July 8th - First Tumut Shire Council Meeting with Mr Edward George Brown,being appointed as Mayor to 1891.
1888 Timothy QUILTY, remarried this time to Miss Margaret A BOURKE, in TUMUT, NSW - (Ref:- NSW BDM 7434/1888)
1890 - Mr Edward George Brown successfully contested for a seat in Parliment as a member for his electorate.
1891 - Captain Geoffrey Herbert Hooper - Born - 15 April 1891 born in Sydney, Australia
1891 - Edward George Brown took in Bland Clayton as a Stock & Station partner in Tumut.
1895 Aug, 3rd - Edward George Brown suffered a Cerebral Haeomarrhage and died the same day in Tumut.
1895 - Svend Holger LUND parents FREDERICK & PETRA LUND born in Utterslev, Denmark.
1899 - Mrs Selina Stanfield died.
1900'S
1903 - A railway line from Gundagai to Tumut was completed.
1903 Jan - Joseph Lambert died - age 56 yrs.
1907, Feb 13th - Gadara Shire - name change.
1909 Oct - Jane Lambert died.
1924 - A J Mannings started business at No.50 Wynyard Street as a Drapery store.
1928, July 1st - Garara became part of the Tumut Shire
1930 - James Stanfield died.
1932 - Sydney Harbour Bridge opened.
1846 by Francis Foord and Mr. Moore on the
1946 - Svend Holger LUND pruchased "Yukon Park" Yellowin.
1946 - Jack and Ginny Higgins sold "Fairview"at West Blowering and retired to Marrickville, Sydney.
1946 - Harry & Ada Crane moved from Darbarlara and purchased "Faiview" West Blowering, from Mr Higgins.
1947 - Frederick GRAHAM takes over Bongongo
1948 - Harry Crane died, of "Fairview" West Blowering.
- 1951 - Sydney, Jean, Lynette & John Stephenson relocated from Kingsgrove to "Kinloch" West Blowering. Tumut
This page is under construction, please contact John on 0431 481 451 or Email - Blowering@hgmail.com with any corrections or additional information.

To Home