~ TALBINGO NORTH STATION ~
WILLIAM (1st) BRIDLE.
Property Details:-
Run No -
Zone - Rural
Acres - 10,000
Estimated area, 10,000 acres.
Estimated grazing capable SOO cattle. -
(Ref- The Sydney Morning Herald (NSW : 1842 - 1954)(about) Previous issue Thursday 27 June 1850).
Portions -
William (1st) BRIDLE - (BRIDAL) - (BRIDDLE)
HISTORY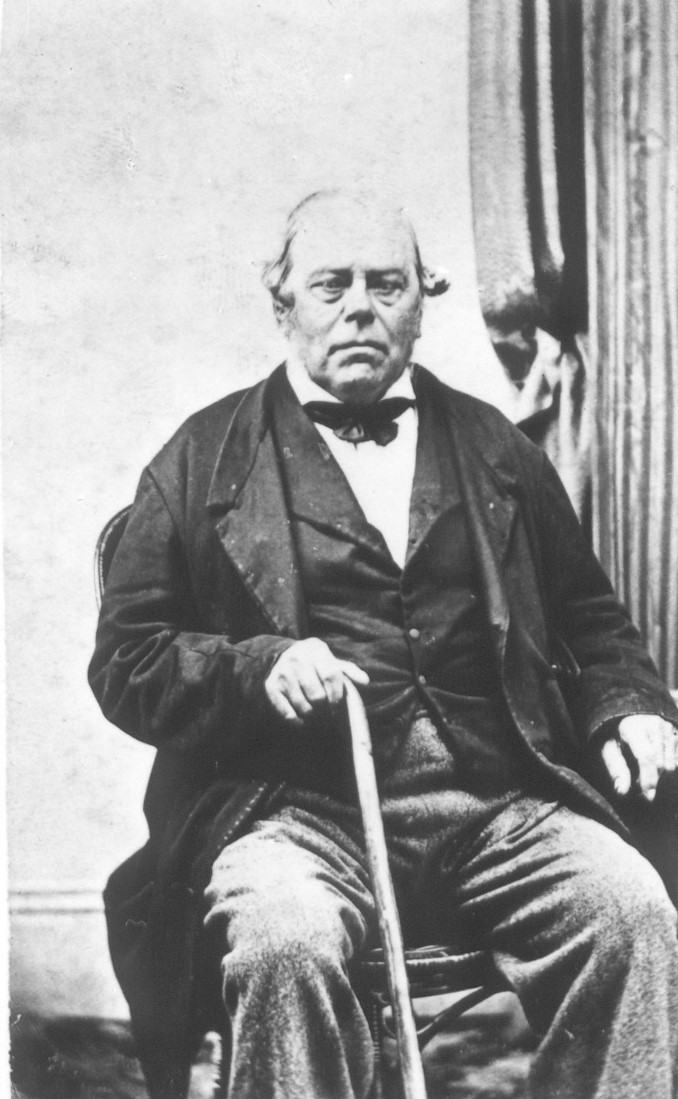 Photo supplied Maree Myhill.
BIRTH
William (1st) Bridle was born in Somerset, England on 4.5.1797. -(Ref - Full date supplied by Maree Myhill)
SENTENCE
He arrived on the ship 'Larkins' on 22.11.1817, aged 20 years.
MARRIAGE
William was 26 when he married Martha Miles on 30.6.1823 at St Peter's Church, Campbelltown. - Martha was 16 when she married William Bridle.
HIS DEATH
William died on 26.7.1873, aged 76. He is buried at the Tumut Pioneer Cemetery. As is his wife.
HER BIRTH
Martha was born at Prospect on 4.2.1807 and was baptised on 1.11.1812 at St Luke's Church at Liverpool. Martha was the second daughter of First Fleeter, Edward Miles and his wife Susannah, nee Smith.
HER DEATH
Martha died at Tumut on 30.11.1886, aged 79.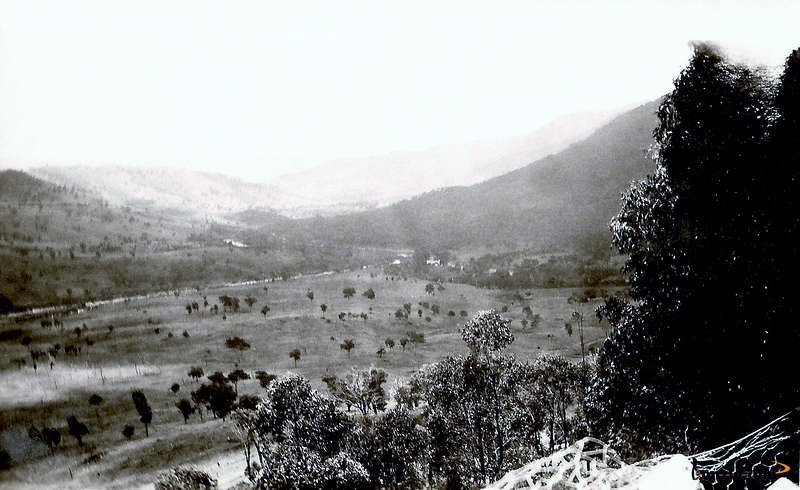 Talbingo - about 1924. Question ---- How many trees did this man clear to make a portion of the Station look like this?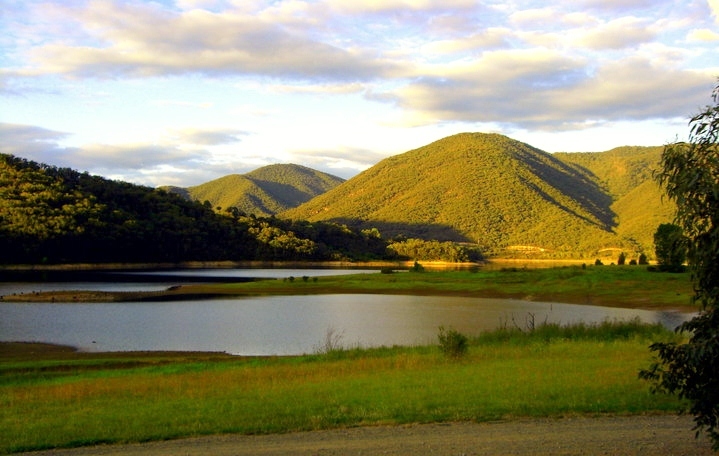 Mr Bridle would never have thought that it would be covered by water. Notice on the other side of the water that the trees had all grown back again.
"William Bridle, one of 250 convicts transported on the Larkins, 24 July 1817 - Convicted at Middlesex Gaol Delivery for a term of 14 years. - (Ref- http://www.oldbritishnews.com/transported-convicts/transported_convicts-158/).
COURT CASE held in THE OLD BAILEY, ENGLAND.
442. WILLIAM BRIDLE was indicted for stealing, on the 5th of February, 1817, one basket, value 3s, and 31lbs of butter, value 40s., the goods of Mr William Batten.
EVIDENCE
DANIEL MACK . I am a watchman of Leadenhall-market . I had seven flats of butter put under my care for Mr. Batten. At half-past five o'clock in the morning of the 5th of February, I saw the prisoner take one of them, I thought he was Mr. Dean's man; when I came to deliver the butter, I found one short. I had seen the prisoner before that time. I am sure he is the man.
BENJAMIN HARRIS . I am a watchman. I saw the prisoner in Dorset-street, about a quarter after six o'clock in the morning, with the butter on his shoulder; I asked him what it was; he said, poultry, from Leadenhall-market - I took him. When we got to the door of the watch-house, he threw it at me and sprained my wrist, and got away. I sprung my rattle, and described him to Hughes, and he took him. I am sure the prisoner is the man.
MICHAEL HUGHES . The prisoner was described to me. I remembered seeing him pass me, about half-past six o'clock - I took him.
(Property produced and sworn to.)
GUILTY . - Aged 19.
Transported for Seven Years .
First Middlesex Jury, before Mr. Recorder.
Arrival in Australia in 22nd November.1817.
Only 5 months of waiting William Bridle departed from Portsmouth in England on the 20th July, 1817, arrived at Port Jackson aboard the ship " Larkins 1 " on the 22nd November 1817, a voyage of 125 days. The ship was Rig. Square. it was 676 Tons, built in Calcutta in 1808 C 1 D 2 - (Ref:- The Convict Ships 1787 - 1868 by Charles Bateson.) The ships master was Cpt. R. Wilkinson
ASSIGNMENT
Following his arrival, William was assigned to James Meehan, a Surveyor, at Macquarie Fields, Sydney, as a Government Convict Servant. He was employed for some time about Sydney, chiefly in agricultural work.
MARRIAGE.
Permission to marry was applied for on the 23rd June, 1823. To the Rev Thomas Reddall, assistant Chaplin, Campbelltown
He married Miss Martha MILES on the 30th June, 1823, in St. Peter's Church of England, Campbelltown. NSW. - (REf NSW BDM No.V1823 3145 3B (CI)).
She was the daughter of Mr Edward MILES and Susannah SMITH. She was born on the 4th February, 1807, in Prospect. Her Baptism took place on the: 1st November, 1812,in St. Luke's Church of England, Liverpool NSW.
CERTIFICATE OF FREEDOM
He was granted his Certificate of Freedom on the 19th February, 1824, after serving his seven years in Australia.
LAND GRANT
He applied for a grant of land near Liverpool. Copy of written grant is on hand.
In 1839 he applied to depasture his stock " under his own charge upon the vacant crown lands beyond the southern boundary and situated on the Snowy River in the district of "Mineroo", stating he owned 200 head of cattle and 6 horses.
MONARO DISTRCT
In the latter part of 1839 William moved his family and stock to "Island Lake", a crown lease of 12,000 acres, bounded by Collandra Lake, Bridles Creek, Bowlers Range, Slacks Creek and Wambrook Road, which he farmed for the next 9 years. It is now known as Island Lake (now Wambrook), which was acquired later by Wallace and Ryrie. Bridle Creek, near Wambrook, in the Snowy Region of NSW, takes its name from him.
In 1848 after 9 years of hard toil he took his family and left the "Monaro" for "Talbingo".
TALBINGO
He obtained a lease of Talbingo Station on the Tumut River and moved most of his his family and all of their belongings to their new property by bullock dray. The family lived on Talbingo Station until after most of the children were married and then in the early 1866 William and Martha moved into the Tumut township. The property was sold to Oltmann Lampe. Who was an old friend and neighbour from the high country in the Aduminaby area and who had married William's older daughter. Unfortunately history shows that due to "progression ?" Talbingo Station in now mostly flooded by Jounama Dam.
Death of Mr WILLIAM BRIDLE.
William died on 26th July, 1873 in Tumut NSW. (Ref NSW BDM No.7088/1873).
Death Certificate shows:-
Occupation: Assigned servant, agricultural worker, explorer, farmer, grazier.
Religion: Church of England.
Burial PLace: The Pioneer Cemetery, Tumut NSW.
His wife Martha died on the 30th November, 1886, in Tumut NSW. (Ref NSW BDM No.14052/1886).Her Burial took place at: The Pioneer Cemetery, Tumut NSW.
CHILDREN BORN to William & Martha BRIDLE (nee MILES).
1... 1824 Elizabeth BRIDLE was born on the 22nd August, 1824, Macquarie Fields, Sydney. NSW. - (REf NSW BDM No.V1824 6862 1B). She died on the 11th June, 1830, in Macquarie Fields. Sydney. NSW. - (Ref NSW BDM No.V1830 367 14). Elizabeth's Burial took place in St. Peter's Church of England, Campbelltown. NSW. - At the age of about 6 yrs.
2... 1827 -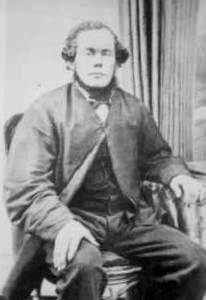 William (2nd) BRIDLE, was born 18 January 1827, Macquarie Fields NSW.- (Ref NSW BDM No.V1827 248 11). William married Miss Elizabeth Wilkinson. He died in 8th May, 1922 in TUMUT.- (Ref NSW BDM No.8825/1922).
3... 1829 - John Edward BRIDLE was born on the 17th July, 1829, in Lower Minto, via Macquarie Fields. Sydney. NSW. - He died in 1908 in TUMUT. - (Ref- NSW BDM 15659/1908). (Ref NSW BDM No.V1829 9373 1C). In 1855 he married Miss Susan Goddard, in Tumut. NSW .John died on the 22nd December, 1908,at Bowlers Flat, East Blowering, via Tumut. NSW. (Ref NSW BDM No.15659/1908).
4... 1831 - SARAH BRIDLE was born on the 21st November, 1831, in Macquarie Fields. NSW. - (Ref NSW BDM No. V1831 546 16).Sarah at the age of about 21 years married Mr Oltman Lampe of Talbingo, NSW. Sarah died on the 11th June, 1912,in Tumut NSW.
5... 1833 - Susannah BRIDLE was born on the 12th November, 1833, in Macquarie Fields. NSW. - (Ref NSW BDM No.V1833 408 18).She married Mr Thomas Wilkinson, of Yellowin. Susannah died on the 16th December, 1913, in Tumut. NSW.
6... 1836 - MARY BRIDLE was born on the 13th March, 1836,at Macquarie Fields. Sydney, NSW. (Ref NSW BDM No.V1836 991 20). She died on the 2nd October, 1919, in Tumut. NSW. - (Ref NSW BDM No.23608). She married Mr James Gabriel NEALL, 25th June, 1883, at Hillston. NSW. - (Ref NSW BDM No.6056/1883).
7... 1841 - THOMAS BRIDLE, b. 6 June 1841, Windsor NSW. He died on the 30th November, 1913, in Peak Hill NSW. - (Ref- NSW BDM 17485/1913).
8... 1843 - MARTHA BRIDLE, born 14th December, 1843, at Island Lake NSW. - (Ref- NSW BDM V1843 2963 28). She died on the 27th February, 1916, in Campbelltown NSW.
9... 1846 - GEORGE BRIDLE, b. 31 March 1846, Island Lake NSW. (Ref- NSW BDM V1846 2142 31A). - MR. G. BRIDLE. - who was killed in a motor accident at Coogee on Sunday afternoon was a native of the Tumut district, where he was a successful farmer and grazier. He sold his property recently with the object of settling in Sydney However, the call of the land proved too strong for him, and he had arranged to settle on a farm in the Wagga district. He was a member of the Land Board tor Tumut and Adelong. Mr Bridle was a good judge of cattle and for more than 30 years acted as a judge at agricultural shows through Riverina. He was an alderman of the Tumut Council and a churchwarden of All Saints Tumut. Mrs Bridle, who is also 72 years, is still in a critical condition, a result of the accident. A family of ten children survive. - (Ref- The Sydney Morning Herald (NSW : 1842-1954) Tuesday 11 June 1929).
10... 1848 - EMMA BRIDLE, b. 13 July 1848, Island Lake NSW. - (Ref NSW BDM V1848 2018 33A) - In 1876 Emma married Mr Frederick KINRED in Tumut NSW - (Ref NSW BDM 4307). Emma died on the 29th January, 1933, in Tumut, NSW.
A NEW HOME. Hawksview, West Blowering.
Dear Uncle Jeff, — I am writing from a new home. I had a very merry Christinas, and I hope you had too. There is going to be a dance at our place and then a tennis match over at my aunty's and a picnic after it. We are only milking one cow. We have a little white heifer calf, and. would you please give a name for it. Would, one of the 'Banner' cousins kindly send in the song, 'Just After the Battle, Mother.' — Your fond niece, Kathleen Bridle (12 years). - (Call the calf Lily. Don't you meaa 'before' the battle.) - (Ref- Albury Banner and Wodonga Express (NSW : 1896 - 1939)(about) Previous issue Friday 20 January 1922 Page 12).
DOWN AMONG THE FRUIT. Hawksview. West Blowering.
Dear Uncle Jeff,— -This, is my second letter to the 'Banner.' I am writing from a new home. I like living down here. It is better than up at Adaminabv because it is warmer. I like going back to school again. There are only 28 children going to our school. We are down here among all the fruit, which I think is the best place to be. The fruit is not ripe yet. Love to aunty, and the 'Banner' cousins. — Trixie Bridle.- (Think of me when you are eating the fruit, if you may perhaps be able to spare me,a nibble.) - (Ref- Albury Banner and Wodonga Express (NSW : 1896 - 1939)(about) Previous issue Friday 27 January 1922 Page 12).
NAMES FOR EVERYTHING. - Hawksview. West, Blowering Tumut.
Dear Uncle Jeff, I suppose you have forgotten me, because it is such a long time since I wrote to you. We had a slight fall of snow here about three weeks ago. It has been raining nearly ever since, and there are small creeks running everywhere. We are milking two cows, and we call one Cherry and the other Clementine. A poddy calf we call Katie and we have a little bulldog pup, we call Poodley. — Your fond niece; Trixie Bridle. (When I am short of names l shall come to you for some, Trixja-. Thanks for the ridles.) - (Ref- Albury Banner and Wodonga Express (NSW : 1896 - 1939)(about) Previous issue Friday 11 August 1922 Page 12).
**********************************************************************************************************
7. 1839 - ROBERT BRIDLE (ROBERT2, ROBERT1) was born 1839 in Liverpool NSW. V1839 989 23A. He married SUSAN OWEN 1857 in Liverpool NSW. 1949/1857.
1836 - Jane BRIDLE was born 1836 in Liverpool, Sydney. NSW. - (Ref NSW BDM No.V1836 982 22). NSW. She married HENRY STEDMAN 1860 in Sydney NSW. - (Ref NSW BDM No.812/1860). She died 1890 in Sydney. NSW.
9. 1841 - SUSAN BRIDGET BRIDLE (ROBERT, ROBERT) was born 1841 in Cabramatta NSW. V1841 1367 25A., and died 26 October 1919 in Adaminaby NSW. Aged 78 1/2 years. She married EDWARD O'NEILL 1860 in Bombala NSW. 1368/1860., son of MATTHEW O'NEILL and MARGARET DEWAN. He was born 29 December 1829 in Tipperary, Ireland, and died 27 April 1918 in Adaminaby NSW. Aged 88 1/2 years.
*****************************************************************************************************************
This report is submitted in good faith. All endeavours have been made to make all entries authentic and correct. For any corrections and additional valuable information, maps and photos you may have please contact John
To Home Page
1878 - New Magistrates. A supplementary Gazette to hand yesterday contains a new list of magistrates, from which we call the following names of gentlemen residing in this and the neighbouring districts: Shelley William John, Talbingo South Station, near Kiandra; - (Ref- Queanbeyan Age (NSW : 1867 - 1904)(about) Previous issue Saturday 30 November 1878).
1870 APPROVED CLAIMS FOR PRE-EMPTIVE LEASES. - [Government Gazette, 3rd June 1870, p.1255.]
No. 7. Thomas BRIDLE, of Tumut.
Area of Freehold in virtue of which Lease granted: 100 acres.
Lease: 300 acres; £0-10-0; County of Wynyard, Parish of Wereboldera; District of Tumut; 70-625. - (Ref- http://www.dcstechnical.com.au/Rusheen/1.0_People.htm)
"The Land Act." - FURTHER DIVISION OF RUNS.
The following additions to the list of runs published in our issue of July 18, appear in the GOVERNMENT GAZETTE of July 31 1885. Merely give the names of the runs and the district in which they are situated. Until diagrams are issued by the Survey Department, showing the dividing lines and the resumed and leased halves of the runs, but little additional information can be given. When the diagrams or maps will be issued seems very doubtful:
EASTERN DIVISION.
Wallabadah, district of Tamworth
Undercliff and Rivetree West, Tenterfield
Bondi, Eden
Poboyan, Queanbeyan
Kentucky, Armidale
New Koreelah, Tenterfield
Arthur Seat, Armidale
Auburn Vale, Inverell
Brabandini, comprising Bellinbipine and yarrabandini and Tanban runs, Kempsey
Edgerton, Inverell Curry Flat, Cooma
Belowra and Wadbiliga, Moruya Nulla Nulla, Kempsey Coneac, Walcha
Craigie, Bombala
Dora Dora, Albury
Queengallery, Cooma .
Coppabella, Boorowa
Billabong, Albury
Wooroowoolgan, comprising Wooroowoolgan, Camden Valley, Wyandah or Stony Creek, York, and Mongogery or
Busby's Flat Buns, Casino
Ironmungy Minor, Cooma Glenbog, Bombala
Wellingrove, Inverell, and Glen Innes Blowering, Tumut
Woila Creek, Moruya Davy's Plains, Molong Glenroy, Albury
King's Plains, oomprising King's Plain and Swamp Oak Buns, Inverell, and Glen Innes
Bell Brook, Kempsey
Frazer's Creek, Inverell Tarra, Bombala
Mole River, Tenterfield
Willie Ploma, Gundagai;
Ramornie, comprising Ramornie. Ermington, and Banca. rumbi runs, Grafton
Blak Jack, Albury
Newbold Grange and Cangai, Grafton and Glen Innes
Newton Boyd, Glen Innes
Tooma, comprising Tooma, Maragle, and The Found Buns, Albury
Cowra Bocks, comprising Cowra Books, and .Cota Buns, Cowra
Burra, Albury
Sherwood, Grafton
Stoney Batter, Armidale
Jindabyne West, Cooma
Chandler's Creek, Glen Innes, and Grafton Rivertree East, Tenter Hold, and Casino
Miller's Creek, Murrurundi Thalgarrah, Armidale
Ten-Mile Creek, Albury.
Wiangerie, comprising Keelgyrah, Wiangaree and Wiangaree West Runs, Casino
Kalkite, Cooma
Waterloo, Walcha
Towyal Creek, comprising Towyal Creek,Five Day Creek, and Stockyards Creek Buns
Newstead, Inverell ,
Bald Hills, Grafton
Broadmeadows, Armidale and Glen Innes Lanark Lodge, Grafton Casino, Casino
Dananbilla, Young Cubmurra, Cooma
Ollera, comprising Tenterden, Ollera, and Mount Sellar Buns, Inverell and Armidale
Annandale, Tenterfield Gostwyck, Armidale
Gingary, Cooma
Tira, Walcha
Broula, Cowra
Looanga, Armidale
Murwillimbah, Murwillumbah
Head of the river, Cooma
Mount Mitchell West, Glen Innes Geegullalong, Boorowa
Mulnerindie, Walcha
Acacia Creek. Tenterfield
Cheeseman's Creek, Molong
Little River, Grafton
Laura, Armidale
Gurrangorambla West, Cooma
Bergen-op-zoom, Walcha, and Armidale
Bogolong, Boorowa, and Yass?
Dilga, comprising Dilga and Carlsron Buns, Molong Bocky River, Tenterfield, and Casino
Walcha, Walcha
Ironbark Creek, Tamworth
Kenyu,Boorowa
Mogong and Tilga, Molong
Moona Plains, Walcha ,
Middlingbank, Cooma
Cooleman, Tumut
Buckondorry, Cooma
Tooloom and Woodenbong, Casino
Woolomin, Tamworth
Gurrangorambla, Cooma
Cavan, Yass
Bead of Curry Plat, Cooma
Yowrie, Moruya
Billylingera, Cooma
Gyra or Gara, Armidale
Lowry Creek, Tamworth
Bobundara, Cooma
Breakfast Creek, Boorowa, Cowra, and Young
Kimo, Gundagai
Annandale, comprising Ten-mile Creek, Billabong,; and Ten-mile Creek Runs, Albury
Loombah, comprising Loombah and Codumble Bange Buns, Molong ' .
Bungawalbyn, Casino
Oban, Glen Innes, and Armidale
Nangus, Gundagai
Ganoo, Molong
Corabella, Albury
Bobundra, Cooma
Bullanamang, Cooma
Lismore, Lismore
Congwarrnh, comprising Freshford, Congwarrah, and Tidbinbilly runs, Queanbeyan North. Gyra, Armidale
Kuthi, Walcha
Logan, Casino Yarrowitch, comprising East Yarrowitoh and Western
Yarrowitch Buns, Walcha Maryland, Tenterfield
Red Hill, comprising Red Hill and Spring Creek Runs, Tumut
Deepwater, Tenterfield '
Green Hills, Tumut
Woomargama, Albury Bouralong, Armidale
Nowendoc, Walcha Retreat, Armidale
Bective, comprising Bubbogullion North and Bubbogul lion South Buns, Tamworth
Gundibindyal, Cootamundry
Cuppacumbalong, comprising Cappaoumbalong Nasa, and
Nass Valley Runs, Queanbeyan Mingay, Gundagai Yaowk, Cooma
Barney Downs, comprising Barney Downs and Frocester Bnns, Tenterfield
Wangrah Creek, Cooma Glenn Borra, Tamworth
Balblair, Armidale and Glen Innes Nullamana, Inverell
Summer Hill, Tamworth
Duzlon, Tumut
Ref- Australian Town and Country Journal (NSW : 1870 - 1907)(about) Previous issue Saturday 8 August 1885 page 28)