Selwyn & Betty Davis
West Blowering,
via TUMUT, NSW.
Resumed by the NSW State Government - 1966
MARRIAGE
In 1946 Selwyn Charles DAVIS, married Miss Betty STURT, in Tumut, NSW - (Ref:- Marriages - NSW BDM No. 7478/1946)
BIRTHS
Three children were born to Sel and Betty also whilst the families lived on "Willowdene", Rhonda, Kenneth, & Helen.

1980 - Records show that in 1980 Selwyn Charles DAVIS son of Mr ARTHUR & Mrs MAY DAVIS died in a town not stated.- (Ref- NSW BDM 23775/1980).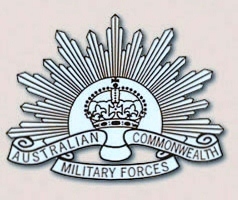 Badge
WW2 - Service Record - DAVIS, SELWYN CHARLES
- Service Australian Army - Service Number N382543 - Date of Birth - 16 Apr 1924 - Place of Birth TUMUT, NSW - Date of Enlistment - 11 Jul 1942 - Locality on Enlistment - GILMORE, NSW - Place of Enlistment TUMUT, NSW - Next of Kin - DAVIS, ARTHUR - Date of Discharge 18 Sep 1942 - Rank Private
Posting at Discharge - 32 AUSTRALIAN INFANTRY TRAINING BATTALION - WW2 Honours and Gallantry - None for display - Prisoner of War No
Some History
During June, 1946, two brothers Selwyn and Clifford Davis purchased the West Blowering property known as 'Willowdene' from a Tumut hotelier Mr Wally Fowler.
One of the first things that they did was to build a small house near the northern end of the farm on the southern side of Deep Creek. This was occupied by Clifford and Eileen who in later years added a new section on the northern side.
In the mid 1950's a new house was built for Selwyn, Betty and family. It was situated in front of the original farm house. Shortly after a tennis court was constructed nearby on an old existing site. This received a lot of use and lead to a love of the game particularly by their eldest daughter Rhonda.
This page is under construction, please contact John on 02 42848890 or johnstephenson@acnrep.com with any additional information.
To West Blowering --- To Front page