"Poplar Farm"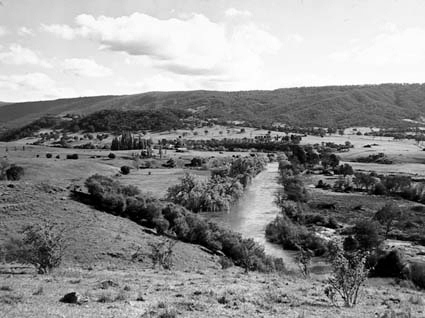 "Poplar Farm" site 1956 situated on the left of the Tumut River at the southern end of Blowering Station
Rolf & Mrs Bridle
Mr Rolf Bridle then took over the lease and employed Owen Hartshorn as his assistant. They ran the property until it's resumption in bout 1966. Making this a unique experience for Owen as this is the property where he was born raised as a young boy and then in later life had the opportunity of coming back and working the land till the flooding of the valley.
Aub & Mrs Whiting
Mr & Mrs Aub Whitting managed the dairy after the Hartshorns left.

raised Neil, Leo, Valeri, Phillip and Owen on the farm. They all attended the Tumut Intermediate High School.

Colin emplayed a dairy assistant named "Kity" who worked herd in the dairy and the piggery. Leaving Colin to assist there and work the farm which hand a wonderful area of river flats which was high producing in crops and was excellant for grazing of the large dairy herd.
Len Oddy
To Oliver Lodge