ANOTHER SCENE ON THE RIVER. - the town band was turned out in full force, and the bci'oreinentionod crowd adjourned to the proposed terminus, where they made night hideous, much to thc annoyance and discomfort of the more staid and peace loving citizens. The township is situated on a river of the same name, and is surrounded by wonderfully fertile country. The river valley, which varies in width from two to six miles, is almost exclusively devoted to agricultural purposes, and produces wonderful crops of maize, etc. A farm which had been continuously cropped with maie for forty years is reported to have yielded one hundred bushels per acre. English trees, such as oak, poplars, walnuts, etc., grow to perfection, and there are many splendid specimens to be seen throughout the district, giving the place quite an English aspect. The proposed site is situated some three or four miles to the south east of the present township, and will readily lend itself to the requirements of the
Amongst the many attractions, special mention must be made of the magnificent Yarrangobilly Caves, which are about thirty miles from the town. The road to these caves passes through some magnificent country, which in time of drought has proved the salvation of many Riverina squatters, who pay heavy rentals for this so called "summer country," upon which they depasture hundreds of thousands of sheep, which would otherwise die of starvation.
TUMUT. September 15. WEATHER.-It is again abominonbly dry as to raise forebodings in the minds of the farmers. Once or twice during the week rain has seemed to be upon the point of falling; but the signs have proved deceptive. In the hill country around Tumut a slight shower or two occured on Wedneaday last.
PASTORAL.-Every available mountain run is being rapidly occupied by squatters from Riverina, and sheep will soon be arriving bere in thousands. Fortunately for this part of the country the rainfall in the uplands has been far greater than in the immediate vicinity of our town.
1873 - That a site for the bridge over the Tumut River at Brungle would be selected, and tenders for the erection of the bridge would be invited on the return to town of the Chief Commissioner for Roads, who was at present on duty in the Southern districts.- (Ref- The Sydney Morning Herald (NSW : 1842 - 1954)(about) Previous issue Thursday 17 April 1873).
1899 - Tenders have been accepted for the following1 public works for week ending 30th ultimo - Road "Works -Tumut to Gundagai, J, Maidment,, Gocup, £200 4s. (Ref- The Sydney Morning Herald (NSW : 1842 - 1954)(about) Previous issue Wednesday 4 October 1899).
TUMUT RIVER - BRIDGE INDEX
The beautiful Tumut River rises near Mt Jagungal on the north west slopes of the Snowy Mountains and after winding a course of approxiamtely 180 klm's (90 miles) west joins the Murrumbudgee River at Darbalara near Gundagai, NSW.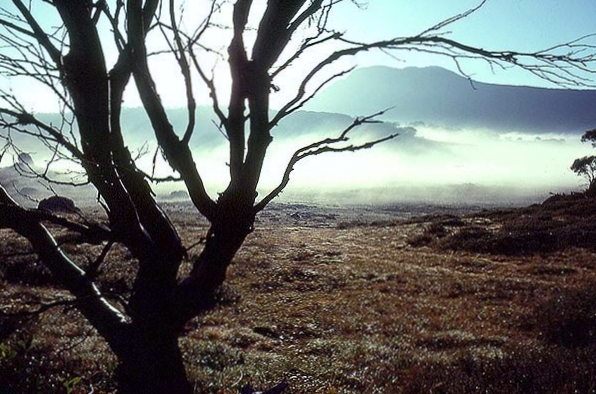 There have been seven main bridges and a walk way constructed over the beautiful Tumut River, four of them and a walk way in the Blowering Area.
Tumut River floods
River ferry
First town bridge - Mill Angle
Tumut Old Town Bridge
Tumut New Town Bridge
Shelley's Bridge
Junction Bridge
Lob's Hole Bridge
Brungle Bridge
Gundagai Bridge
Jones's Bridge
Oddy's Bailey Bridge
Oddy's Walk Over Bridge
Oddy's Bridge
Yellowin Bridge
1930 - BITTEN BY SNAKES. - TREATMENT NEGLECTED. CAMPER DIES IN HOSPITAL. TUMUT (NSW) Monday, - Alfred Tiwin Phillips who was camping with his wife and child on the Tumut River, near the Junction Bridge, felt himself bitten late at night but neglected to treat the bite. Hours later he felt sick and when he was brought to the Tumut Hospital it was found that he had been bitten by a snake. He died next duy, Phillips who was a native of New Nealand, - lives a fannel on a soldier settlement block at the Rand near Albury. - (Ref- The Argus (Melbourne, Vic. : 1848 - 1956)(about) Previous issue Tuesday 11 February 1930).
1900 - Mr. R. Donaldson, M.L.A., has been successful obtaining a special grant of £75 for a road from Jones's Bridge to West Blowering. - (Ref- The Sydney Morning Herald (NSW : 1842 - 1954)(about) Previous issue Wednesday 24 October 1900).
1936 - THE CARETAKER. A Hermit of the Tumut.(BY EVAN SAWKINS.) - He is an old-time miner named Donohue, and for 40 years he has lived amongst the steep mountains that crowd against one another in the wild country between Tumbarumba and Kiandra.
At O'Hares Bridge, on the Tumut River, on a little piece of flat land, he has a humpy, and lives alone. Seven or eight miles of difficult track to the east leads a bushman to his nearest neighbour at Lob's Hole, where once a famous copper mine yielded rich ore. Twenty miles father on, and 3000 feet higher, is grey wind-swept Kiandra.
Donohue is one of the old pioneer miners of yesterday, slightly stooped, rough and weather beaten, and with a long white beard, and very picturesque. He is paid a small sum to watch the bridge and keep fires away, and at the same time does a little fossicking every day and takes a great deal of interest in his garden.
In the summer time when the west lands are dry and parched, great mobs of sheep are trucked through Wagga to Tumbarumba, and driven down on to the Tumut at O'Hares Bridge, and over and away to the summer grazing lands about Rules Point. After they have got their sheep across, the drovers always camp at the bridge, and their company is invariably bright and their talk newsy. When the trout are striking the old man is often hailed by passing road men. He himself never fishes, but there is a frivolous little creek that joins the river near the bridge, and in the late afternoon he often likes to sit on a rock on its bank and watch the trout in the sparkling water.
In the winter time no one passes by. The rough old bridge again becomes part of the wild bush whence it was hewn, and the mad Tumut races underneath, its waters swollen with melted snows.
It was in the late winter that I made the bridge, one dull bleak afternoon, very near to sunset. A hundred yards along the river I saw the old ramshackle hut - a thin wavering line of smoke rising from its chimney. The garden was well set out and efficient looking, but the rough and tumble fence around it was made up from logs and branches, and being without posts, had a rather sorrowful aspect.
He had imported seed from America, and was most optimistic about certain experiments he was making with it. His interest in the subject was infectious. His chief experiments, however, were with the medicinal herb Golden Seal. This plant is particularly suited to cultivation in alpine dis- tricts. He had imported seed, and was, he thought, the first to successfully grow it in Australia. The large scale cultivation of Golden Seal was now his chief concern, and the little mining he still did was for the sole purpose of allowing him to keep on with these experiments.
I said good-bye to him the following morning, and left him those stores that I could spare. He saw me over the bridge, and indicated the Tumbarumba track. Later on in the morning, as I sat down to rest, and the more to relish my final glimpse of the Tumut, now almost 2000ft below, I was still listening to his cheerily spoken words of parting: "I'm not lonely, I'm in a bubble of excitement to see how my pansies turn out in the spring" -lucky man. - (Ref- The Sydney Morning Herald (NSW : 1842 - 1954)(about) Previous issue Saturday 1 February 1936).
G and V Boston - erection of bridge over Tumut River at O'Hare's Crossing, road Kiandra to Tumburumba - (Ref- The Sydney Morning Herald (NSW : 1842 - 1954)(about) Previous issue Wednesday 9 November 1892).
This report is submitted in good faith. All endeavours have been made to make all entries authentic and correct. For any corrections and additional valuable information, maps and photos you may have please contact John
To Home page - To Tumut Index
1883 - DEPUTATIONS. ROADS FROM TUMUT TO KIANDRA AND COOMA. - A deputation of inhabitants of ths localities interested, together with Mr. T. C. O'Maru, M.L.A., und Mr. Russell Burton, M.L.A., waited on the Hon. Minister for Works, yesterday, to request that the roads from Tumut to Kiandra, and Tumut to Cooma, which are at present in a very bad condition, should receive a proper share of the money voted and be put into a proper state of repair. Mr. STUAUT informed the deputation that he would give due consideration to their request. - (Ref- The Sydney Morning Herald (NSW : 1842 - 1954)(about) Previous issue Wednesday 18 April 1883).
1883 - ROAD WANTED. - A deputation was introduced by Mesara. O'Mara and Russell Barton, M.L.A., to the Minister of ' Works in order to obtain the construction of a road from Tumut to Kiandra. The sum of ¿65000 had been placed on the estimates for; roads in the district, and the object of the deputation was to ask for a fair share of that amount. It was pointed out that at present the road from Providence to Kiandra was almost impassable. Mr. Stuart (with whom was Sir Patrick Jennings) favourably received the deputation and said a report should be drawn up and carefully considered, the Government desiring to do what was right in this question of the apportionment of public money on public roads. - (Ref- Australian Town and Country Journal (NSW : 1870 - 1907)(about) Previous issue Saturday 21 April 1883).
1890 - Country Complaints. - A Bridge Wanted. - Our Tumberumba correspondent writes ander date September 6: Nothing has been settled in referene to the bridge over the Tumut River, to connect this place with the famous Yarrangobilly Caves. The necessity for this bridge was pointed out through the valuable columns of the T. AND C. JOURNAL four years ago. The money was voted for its construction by Government but nothing more than a survey has been done. Why is this? - (Ref- Australian Town and Country Journal (NSW : 1870 - 1907) Saturday 13 September 1890).
1891 - The Yarrangobilly Caves. Our Tumbarumba correspondent writes under date April 14: - A party arrived from the Yarrangobilly Caves last week well satisfied with the visit. They report great progress in the improvements at the caves. They think that the TOWN AND COUNTRY JOURNAL, which is acknowledged publicly to have done a deal of good for this district and for the caves, might use it's influence again in advocating for a much-needed bridge over the Tumut River at Lobs Hole; also for the expenditure of a few hundred pounds by Government in making the road to the caves passable for horsemen. It is with the greatest difficulty that a party can find their way to the caves from this side that is, from Albury or Wagga districts, there being no defined track or finger-boards to guide them after Paddys River is crossed, on the Tooma and Murray roads. - (Ref- Australian Town and Country Journal (NSW : 1870 - 1907)(about) Previous issue Saturday 18 April 1891).
1950 - Students Plan Canoe Trip - COOMA, Monday. - Six Sydney University students two of them women are planning an 80 mile trip down the rocky Tumut River.They intend paddling from Tumut Ponds to Tumut in three Canadian 15-foot canoes. The first 30 miles of the trip, from Tumut Ponds to Lobb's Hole, has never before been covered by canoe. Mr. Alan Tapsell will lead the expedition, with Mr. and Mrs. Russell Wilkins, Miss Ann Stafford, with Mr. Howard Duncan and Mr. George Blumer. - (Ref- The Sydney Morning Herald (NSW : 1842 - 1954) Tuesday 5 December 1950).
Government Gazette.. Friday, Nov, 22. -
TENDERS INVITED.-Tenders are invited for repairs to the court and watch houses, Yass; for bridges at Wallaballah, Wallabindry and Cobbora, bridge over Wack Creek, bridge over the road from Cowra to Forbes, works on the Armidale and Grafton road, the road from Bowning to Young, the road from Gunning to Burrowa, the bridge at Kangaroobie Creek.
PUBLIC SCHOOLS.-Applications have been received for the erection of public schools at the undermentioned places, viz., Merimbula and Laguna.
The Gazette contains the proclamation repealing the Gold Fields Act, 1865, as hereunder described. Lachlan Gold Field; 135 acres, county of Ashburnham, Lachlan River, at Wagan, Eugowra Run. That portion of the Lachlan gold-field, proclaimed 31st August, 1865, within portion broad-arrow over LXVI over XIII; commencing on the Lachlan River, at the south-east corner of that portion; and bounded thence on the east by a line north GI chains; on the north by a line west 20 chains; on the west by a line south 7S chains to the Lachlan River; and on the south by that river upwards, to the point of commencement.
REGISTRATION.- The Rev. G. Sutherland (Prosbyterian), Sydney, has been registered for the celebration of marriages.
DISTRICT COURT.-A district court will be holden at the court-house, East Maitland, "on Tuesday, 10th December.
JURY LISTS.-Revision courts will be held at the following places, via: - Forbes, Friday, 13th December; Yass, 11th December ; Albury, Tuesday, 10th December; Casino, Monday, 9th December; Hay, Friday, 13th December.
CROWN LAND SALES.--Sales of leases of Crown lands will be offered at auction, on Friday, the 3rd January next, at the following places;- Counties of Camden, Westmoreland, "Wellington, and Roxburgh.
DISEASES IN SHEEP ACT.- A meeting of sheep owners will be held at the court-house, Albury, to select a sheep director in the room of Walter Still, Esq., deceased.
TUESDAY, Nov. 20. - APPOINTMENTS.-His Excellency the Governor, with the advice of the Executive Council, has been pleased to inake the following appointments:-
The Hon. Sir W. Macarthur, the Hon. Saul Samuel, and John Smith, Esq., M.D., to be additional members of the commission to collect, &c, exhibits for the London Exhibition of 1873.
Constable Frederick Fowler to be acting Clerk of petty sessions at Broughton Crock, vice Grieve, removed; to take effect from 1st instant. Edward Peter Capper and Richard Cracknell, Esqs.. to be additional trustees of the West Maitland branch of the Savings Bank of New South Wales. Mr. John Dwyer to be a telegraph line repairer at Goulburn. Messrs. Donald Shearer and Michael Rust to bo additional members of the Public School Board at Rockymouth ; and Messrs. Frederick Parsons and Frank Beames, additional members of Public School Board at Petersham.
Senior-constable Thomas Grieve, inspector of weights and measures, Shoalhaven.
CROWN LANDS SALES.-Land sales will be held at the following places during this month, viz- :- At Armidale, Bathurst, Bendemeer, Berrima, Bombala, Baurke; Braidwood, Drake, Gosford, Hay, Kiama, Liverpool, Molong, Nowra, Singleton, Stroud, Wagga Wagga, Windsor, Wollombi, Yass and Young, on Friday, the 29th instant; and at Bingara and Bundarra, on Saturday, the 30th instant.
POST-OFFCE NOTICE.-The Post-office at present known as Longbottom, will, on and after the 1st January next, bear the designation of Concord.
NEW PUBLIC SCHOOLS.-Applications have been received at the Council of Education Office for the establishment of public schools at Tempe, Charleyong, Merimbula, and Gaguna.'
ACCEPTED TENDERS.-The following tenders have been accepted by the Government, viz.:-Leases of Orange and Guyong toll-bars, 1873, Mr. James Capíes; lease of Penrith bridge toll-bar, 1873, Mr. I. Wynne; lease of Mount Victoria toll-bar, 1873, Mr. J. L. Meads ; lease of Rocka toll-bar, 1873, Mr. T. C. Colloy; lease of Annandale toll-bar, 1873, Mr. W. Morrow; lease of Bowonfells toll-bar, 1873, Mr. Corderoy; supply of meat safes for Gladesville asylum, Messrs. L. Skinner and Son; erection of bridge ovor Goonoo Goonoo crock, Mr. A. Davies; erection of bridge over Stony Creek, near Yass, Mr. J. Hammond ; lighting exterior lamps, Victoria Barracks. 1873. Mr. W R. Robinson. - (Ref- Australian Town and Country Journal (NSW : 1870 - 1907)(about) Previous issue Saturday 30 November 1872).
A SPECIAL GRANT.-A telegram which reached Tumut, this week, from Mr. Travers Jones, the member for the district, caused immense satisfaction here. It said that a special vote of 612,000 pounds had been passed for the Tumut to Kiandra Road, and that tenders would be invited as soon as practicable for constructing the new route over Talbingo. When this is done, and the portion of the road between the town and the Punt Bridge is put in order, a very great boon will be conferred upon our inhabitants.
DEMISE.-An old residont of tho district passed away last week, in the person of Mrs. Peter Beattie, of Blowering, who died on Sunday last, at the age of 55 years. She was a native of the district, and a daughter of the late Mrs. Thomas M'Alister, the first white woman who came to Tumut.
COMING PLEASURES.-Great preparations are being made for the Mayor's Ball, to come off on the 18th instant. It is expected to be a grand affair. This event is to be quickly followed by a flower show, a church picnic and concert, and the spring races.- (Ref- Australian Town and Country Journal (NSW : 1870 - 1907)(about) Previous issue Saturday 19 October 1889).
This report is submitted in good faith. All endeavours have been made to make all entries authentic and correct. For any corrections and additional valuable information, maps and photos you may have please contact John