Sir, There has been a great deal of controversy over the name Barren Jack. Well, I happened to be living at that place as far back as 1857 when there were in those days scores of blacks on the Murrumbidgee flats, and I became fairly well used to their language. I am to a fair extent familiar with it yet. Now the blacks' name for that place is Burreen- gic, meaning Big Fish.
I have known fish to be caught there weighing nearly 100lb. But the name has been corrupted by the white people the same as a place called "Blowering", at Tumut.,
The aboriginal name is "Bulla-roaren," meaning two standing; that is, they have seen two buckeens (Willa blackfellows) standing.
There are many other similar names, viz., Cootamundra, Adelong, Merrybindinyah, I can give the meaning of.
I am, etc.,
NICHOLAS LOCKYER POTTER. - (Ref - Canterbury. Feb. 21. - (Ref- The Sydney Morning Herald (NSW : 1842 - 1954) Thursday 2 March 1911).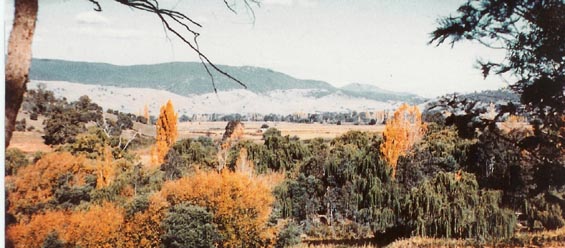 Where the trees are, was cleared for the wall construction.

Notice in thge back ground TALBINGO Mtn guarding the Southern end of the valley.
Tumut Minicipal Shire Declaration
-
TUMUT, NSW - General Information and Links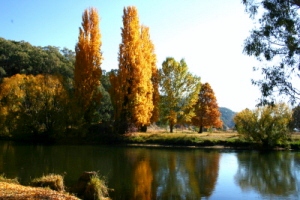 Hume & Hovell crossed this river about 6 miles upstream from this site.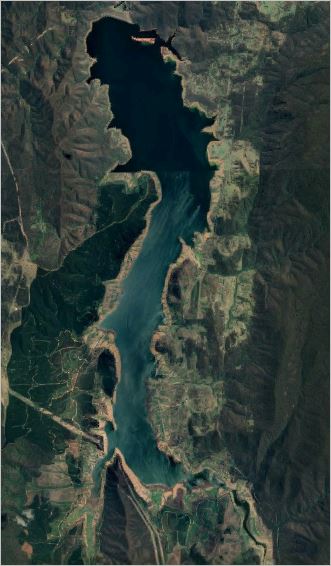 Photo from Google Maps 2019
This Web page is dedicated to the Early Pioneers from 1824 through to the final days and the Resumption & flooding of the Blowering Valley in about 1966.About 142 Years Of History Is Available for Rediscovering And Filing In Honour Of These Brave People, Who Took On The Elements And Won All "~ BUT THE LAST FIGHT ~"
We will travel from "EARLY RUNS" to "SQUATTERS PASTURAGE LICENSES" to "FULL OWNERSHIP" to the forced "RESUMPTION" of all privately owned Land in the valley in about 1966.
"The First signs of the "START OF THE FINAL ACT"
This report is submitted in good faith. All endeavors have been made to make all entries authentic and correct. For any corrections and additional valuable information, maps and photos you may have please contact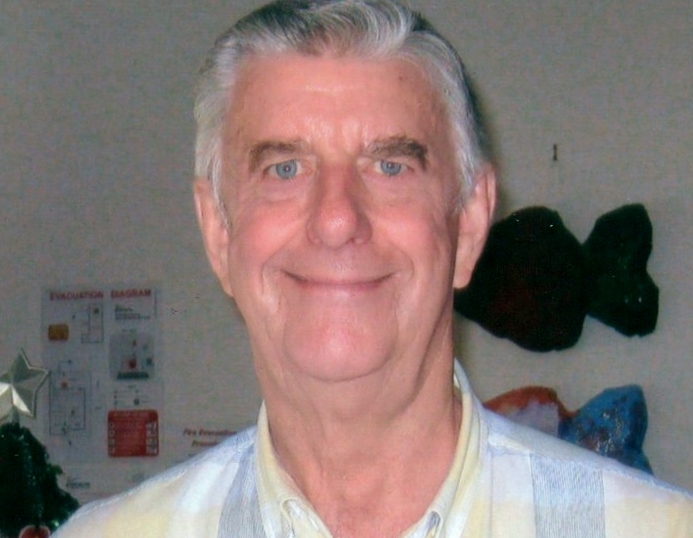 John Stephenson

(Mobile 0431 481 451) Ex West Blowering & Tumut Resident, now living in Wollongong, NSW. Australia.