THE BEAUTIFUL BLOWERING VALLEY

south of
AUSTRALIA
"This Web page is dedicated to the Early Pioneers from 1824 through to the final days and the Resumption & flooding of the Blowering Valley in about 1966.About 142 Years Of History Is Available for Rediscovering And Filing In Honour Of These Brave People, Who Took On The Elements And Won All, BUT THE LAST FIGHT ~"
From "EARLY RUNS" to "SQUATTERS PASTURAGE LICENSES"
to the RESUMPTION of the valley in about 1966
by
Ex Blowering resident Mr John Stephenson Wollongong, NSW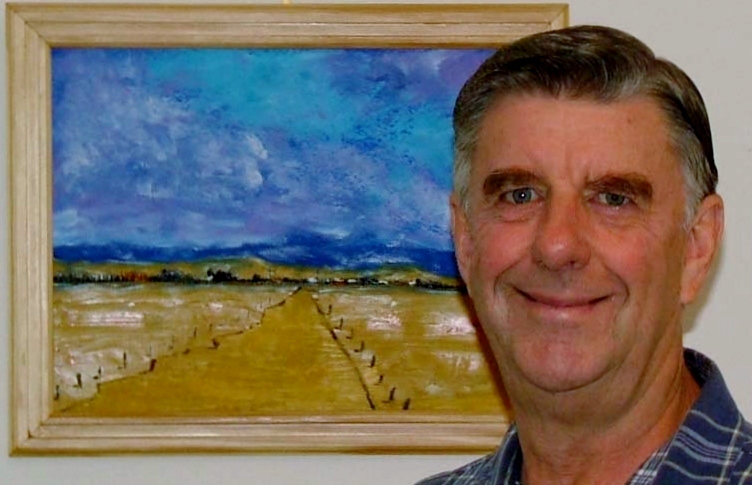 John standing beside his painting named "Low Tide At Blowering During Drought !!!"
"The First signs of the "START OF THE FINAL ACT"
On the 21st March, 1952, some 15 acres of land from Portion No.... at a fee of Pounds...... was resumed from Mrs B E Long. To establish an Office - Store - Workshops - Camp - Housing for the preparation to commence construction of the "Blowering Dam".
The establishment of the work site plus investigation drilling and soil testing was carried out until 1957 when due to lack of finance work was stopped temporarily. It did not recommence until 1963 when the decision was made to have the Snowy Mountains Authority build the Blowering Dam as agents for the Water Conservation and Irrigation Commission (W.C. & I.C.).The W.C. & I. C. was given the responsibility of administration of the Land Resumptions.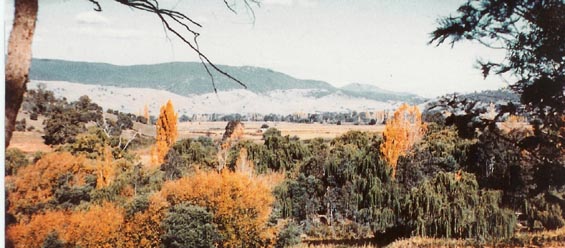 Looking up the Blowering Valley from "Stanfield's Cutting" from the West Blowering Road towards Talbingo Mountain in the far background .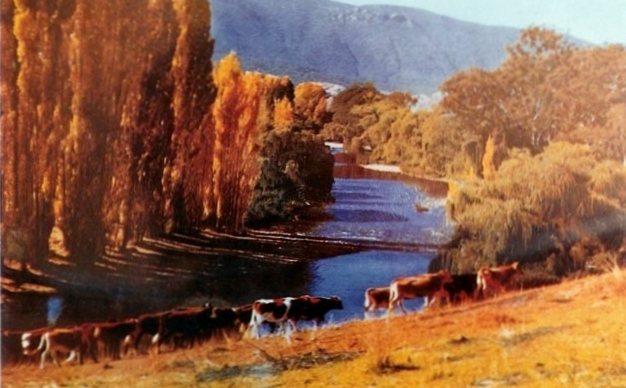 A pretty good view for "The Girls", whilst out walking in the sun beside the Tumut River on the " Davis" property.
See the Blowering Cliffs in the background.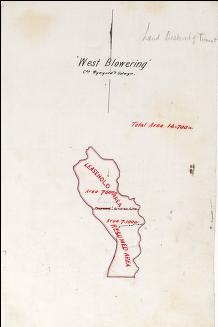 Early Blowering Map
~~Local Areas, who had a connection with the "Blowering Valley".~~
This Site Last Updated = 9.4.11
This report is submitted in good faith. All endeavours have been made to make all entries authentic and correct. For any corrections and additional valuable information, maps and photos you may have please ring John on 0431 481 451 or Email John